Fewer than 20 openings remain for the marquee business development event for custom integrators, Nov. 1-3 in Orlando, Fla.
Industry leaders are gearing up for the 10th annual CE Pro Summit, and it shows in the rate at which guest spots are filling up. The executive-level event will host 135 custom integrators this fall, but just a fraction of those openings remain.
"The interest level that the 2017 CE Pro Summit has generated is incredible," says AE Ventures guest relations specialist Leigh Fishback. "With only 18 spots left at five months out, that puts us at 87 percent full. We expect to fill the remaining openings within the next two to three weeks."
Applicants are vetted to make sure they qualify to be a hosted VIP. Those who are approved are treated to complimentary airfare, food and beverage, hotel and event access, which includes 2.5 days of idea and best practice sharing, market information and high-quality engagements with sponsoring companies.
The experience is one past attendees say is invaluable, due to its networking, educational and private meeting opportunities.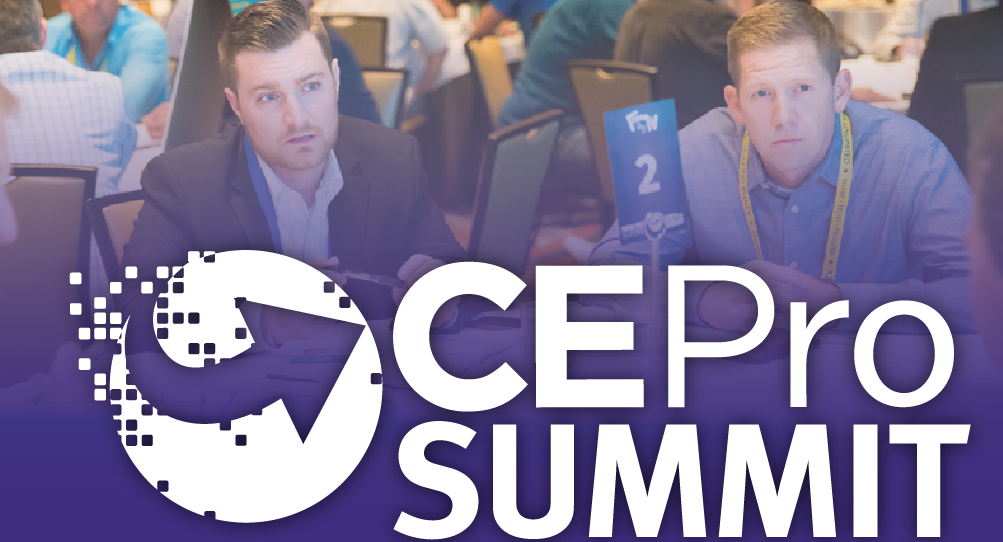 "I think it's great," says Simbio Lighting + Control vice president Wynne Walker. "It's an intimate environment. There's no other place like this throughout the year for us to go to have these types of experiences where we can meet with manufacturers one-on-one and have one-on-one time with our peers. So, it's definitely unique in that regard."
"I came with a medium level expectation about what I was going to learn and see," adds Digital Surroundings president and owner Chris Wakin, who was a first-time guest in 2016. "But, I think the networking part of it has been really valuable, and they've also done very well with connecting me with the right kinds of manufacturers."
Networking with peers and meetings with manufacturers are only a part of what guests are able to experience at the CE Pro Summit. There are also informative educational sessions throughout the event, roundtable discussions and fun social events.
"The Summit truly is a unique, can't-miss opportunity for integrators looking to grow and improve their businesses," says Fishback. "We have a great group confirmed already, and I'm so excited to see what new ideas and best practices come from the event in November. You won't want to miss it!"
Click here to apply to become a hosted guest at this year's CE Pro Summit. Contact Leigh Fishback with any questions at leigh@ae-ventures.com.