One of the biggest trends to hit the custom integration market is outdoor entertainment. Systems integrators are capitalizing by folding more outdoor projection and other technology into their portfolios, expanding their showrooms to include AV-endowed patios, and investing more attention, designers, and technicians to the craft.
Now that seemingly every systems integration company has jumped on the outdoor tech bandwagon, the next challenge is finding ways to stand out from the crowd.
Two-piece projection systems can elevate your standing and score outdoor entertainment points with potential customers as they look to invest in their backyards. You may already be pitching landscape lighting, better audio, and more for the outdoors, so why not go for the gusto when it comes to video, too …. here's how:
Bigger Is Better… so Is Blending In
Inside, you're confined by the size of a room when choosing a screen; in most outdoor settings, the sky is truly the limit on how big you can go. Despite its size, blending a cinema-style screen into its natural surroundings is relatively simple.
Motorized housings conceal the screen while not in use and can be customized to the screen size, power source (DC- or AC-powered), and design intent— painted to complement the outdoor aesthetic when surface-mounted or hidden when recessed within a structure. Motorizing a standard outdoor TV is significantly more complicated and costly.
Outdoor-Friendly Designs
It's easy to control the environment indoors; outside is another matter. Wind, sun, moisture, and dust are completely at the hands of Mother Nature. Much like outdoor TVs, projection screens are now being designed and engineered to withstand the elements.
Zipper tracks keep the screen taut when down on windy days; the durable, rugged ISP-67-rated housing protects the material from wear and tear when it's up. Battery and solar-powered options preclude wiring to simplify installation.
Crowd-Pleasing Configurations
Unlike the audience of a conventional indoor theater, outdoor viewers tend to move around. They may begin watching a show from the swimming pool, move to the barbeque area, and finish in an enclosed patio. Wide-angle, outdoor-rated screens deliver clear, bright images to multiple vantage points.
Taking this a step further, a dual-sided, 360-degree screen: content can be viewed on both the front and back of the screen. One group can watch the show through the kitchen's open French doors while another group partakes from the backyard, for example.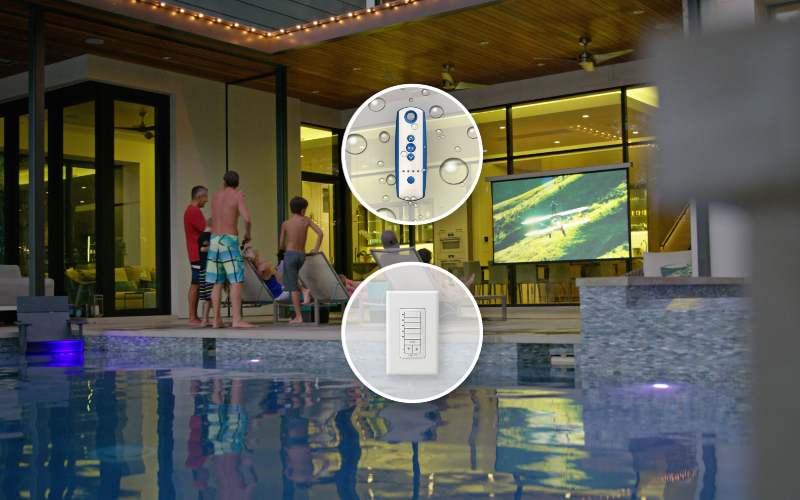 Integration-Friendly for Effortless Operation
Despite their heft, projection screens are remarkably easy to operate. Built into the motorized housing are all kinds of goodies like advanced circuit boards with 485 communications, ZigBee, IR, dry contact, 12-volt triggers, and other inputs/outputs; removable fascias for quick and easy service and maintenance; and interfaces to enable native control with popular home automation systems.
Projection screens can function as a part of a complete outdoor environment, synchronizing with the video projector, lighting, audio, rain and wind sensors, and other technologies.
You can present your customers with a variety of options to engage the projection screen: dedicated wireless remote, voice via an integrated control system, or as an entertainment scene, for example.
Projection Screens for Every Situation
Given the wide assortment of projection screen materials, you'll have no problem finding the perfect match for each project.
Whether the viewing area is enclosed and small, exposed and expansive, or will be paired with an ultra-short-throw projector or a high-lumen model, there's a screen perfectly suited.
Projection screen and shade maker Screen Innovations, for instance, have made things super simple for integrators to create and install the right system for customers no matter the situation.
The company integrates into screen assemblies a detachable fabric tube that can be removed while the unit is mounted for access to the motor, cabling, projection fabric, control board, and other components. The fabric can be swapped for a new roll of screen material or shade material should a customer upgrade their projector or change to a shade only, for example. It also simplifies leveling adjustments and access to the internal mechanisms and technology.
You'll be able to create an engaging, exciting entertainment oasis for your clients that performs beautifully — with both screens up and down.
About the Author
Lisa Montgomery has over 25 years analyzing and reporting on the home technology marketplace. As a freelance writer, her work has been published as case studies, blogs, feature stories, and thought leadership pieces published in leading industry magazines, manufacturer websites, press releases, and more. By following the trends that shape consumer adoption and use of technology, she provides insightful messaging to help consumers make smarter buying decisions and professionals grow their businesses.