Whether it's aesthetic demands, space constraints, wow factor delivery or otherwise, custom integrators can pitch hidden tech solutions for many purposes.
It's safe to say that people have gotten comfortable with technology. One merely has to look around them to find some sort of AV device in the general vicinity.
Now that we've reached the level of global adoption for many home AV systems, the question for integrators is what more homeowners want and need that's new, different — and ready for the future. As design and aesthetics continue to intersect with home technology, an increasing trend is motorized AV concealment solutions such as lifts and mounts. Here are six reasons to add them to your service portfolio:
1. Hides AV Equipment — Cleverly
Although people may be daily super users of technology, there's still something universally cringeworthy about seeing displays, cables, speakers, extenders, video sources, and more 24/7. In fact, that "technology clutter" can be disruptive to the peace, tranquility, and beauty in a home. Many architects and interior designers can attest to how a TV screen sticks out like an eyesore.
Every effort of care and thoughtfulness that has gone into creating a design centered on the captivating panoramic views outside, for example, can be quickly undone by that black hole.
A customized motorized AV concealment solution is a high-end yet minimalistic solution. There are many prefabricated display cabinets now available on the market; however, they're often limited in design, style, and color; and the last thing homeowners and designers want to do is compromise if an element is completely wrong for the room.
Leveraging a customized motorized AV concealment solution, custom integrators can collaborate with design professionals to integrate technology sympathetically into the home.
The right manufacturer can fabricate a display lift that fits into a chosen piece of furniture. Or where more furniture isn't ideal and there's space, they can explore an in-floor or ceiling lift system, sliding panel, or even an under-bed option.
In either case, AV equipment is concealed and revealed while staying true to the home's design vision. Plus, customized concealment solutions aren't just for display, projectors, and other AV equipment. They can be used to hide any anything in the home, making it a versatile solution for kitchen appliances, safes, paintings, and more.
2. Adds to Smart Home AV Experience
This is the Age of the Connected Home, where homeowners want to effortlessly command and control systems at a touch of button or autonomously. Whether that's lowering the shades, turning on indoor or outdoor lights, setting an alarm, or changing music and media selections, the smart home prevails.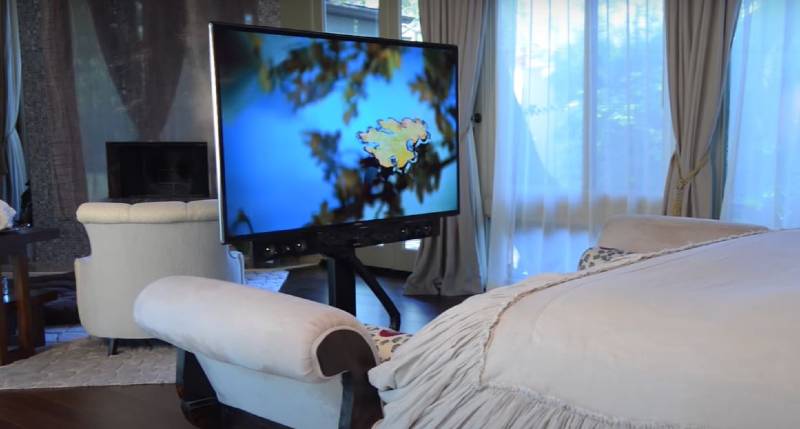 Motorized concealment solutions can be added to that experience and integrated with today's control system. Right alongside their other control options, homeowners can conceal and reveal AV equipment effortlessly and with flair that is modern and enjoyable.
3. There Is Limited Space or Special Requirements
New home builds are "easier" when it comes to implementing AV, and that's certainly true for specifying concealment solutions. They can be worked into the design from the beginning. When it comes to retrofitting a space, however any number of issues can make for a tougher nut to crack.
There is some good news: Many products can be customized, which allows integrators to work with the space they have and in return, speed up the installation process. In cases where there isn't enough space, other alternatives, such as hiding a wall-mounted display behind a motorized sliding panel or painting, can be just as inspiring.
4. Provides an Additional Security Layer
With people now working from home at least a couple days a week and more technology investments being made in the home, security and surveillance is a top priority. Data from CE Pro's 2021 Security & Surveillance Deep Dive Study confirms that, with 82% of integrators installing at least one alarm or surveillance system in the past year.
Homeowners are seeking to expand their system options with everything from Wi-Fi networked cameras to smart door locks and smart video doorbells — anything that will keep their home and their possessions under wraps. A motorized AV concealment solution, integrated with a control system, can be a state-of-art security solution for protecting those AV assets.
5. Delivers New Outdoor Possibilities
The great outdoors isn't only for gardeners and landscape architects to work in anymore. Over the last 10 years, homeowners have broadened their backyard must-haves to include audio and video entertainment as well. Traditionally, displays have been tucked and mounted as far back into an obscure corner as possible to shield them from the elements.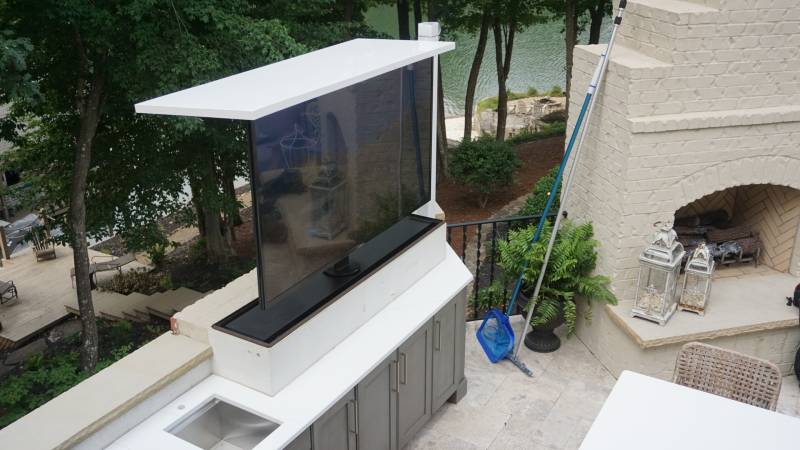 A motorized concealment solution delivers new, exciting options for system placement. For example, with a custom outdoor-rated below-ground lift, a double-sided display setup can rise out of the pool at a touch of a button or maybe a massive videowall is served up from below a tennis court. These systems can be built out to protect against weather, concealed when not in use, and add enjoyable, awesome entertainment when they are revealed.
6. Offers Unexpected Luxury Touch
Homeowners are looking for wow factor. By incorporating motorized concealment solutions, integrators can make AV in the room or outside disappear — and reappear — like magic.
Options such as display swivel or solutions such as an under-bed display lift that pulls an entire display out from the unused space under a bed and lifts it to the optimal viewing height, are unexpected but also provide the comfort and luxury that transforms the entertainment experience.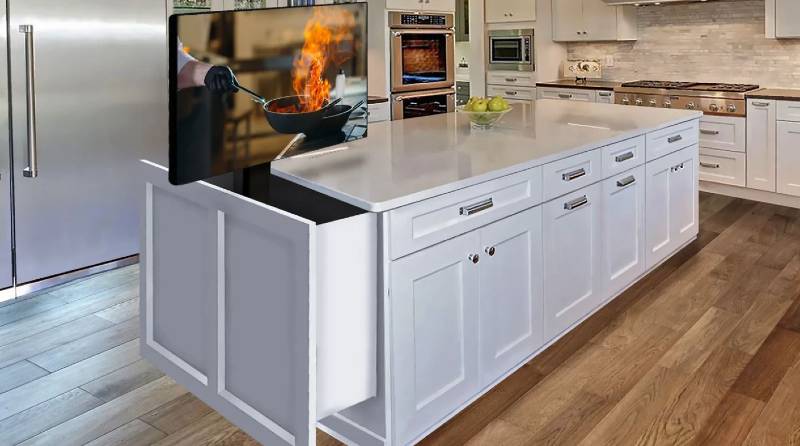 Tailored motorized AV concealment solutions hit many areas where homeowners are looking to invest. Indoors and out, integrators can utilize them to deliver the perfect integration of technology, design, security, and luxury.