*Originally published on CEPro.com
These integrators are taking advantage of trending technologies, savvy sales and marketing strategies, embracing service agreements, spurring trade partnerships and more.
Every year, the CE Pro Summit convenes members of the elite CE Pro 100 list comprising the custom industry's highest-revenue integrators; or at least the ones we know about because they participate.
But a revenue threshold reached by 100 companies represents only a fraction of our readership, who all experience varying degrees of success that can be measured by more than just financial metrics. Plenty of companies have found ways to grow their businesses with innovation, creativity, adaptation and other savvy, and we wanted those voices to be heard at the CE Pro Summit (Nov. 9-11 in Cleveland) as well.
So this year CE Pro brought back Rising Stars, a program we conducted once previously, to highlight how some younger integration firms are making a name for themselves (apologies to some companies that entered but have been around for far too long to be considered "rising"). We're talking about companies in large part launched during the past decade that are increasing business by adopting the latest technologies from voice control to lighting fixtures to wellness; leveraging today's social media marketing tentacles; cultivating key trade partnerships; recognizing the importance of service agreements, and more.
Here are snapshots of this year's nine Rising Stars, who share some of their efforts that are making a positive impact on their growth. Keep in mind many filled in information, including target growth for 2020, before the coronavirus lockdowns fully took effect.
---
2020 CE Pro Rising Stars
---
LANZA AV – PHOENIX, ARIZ.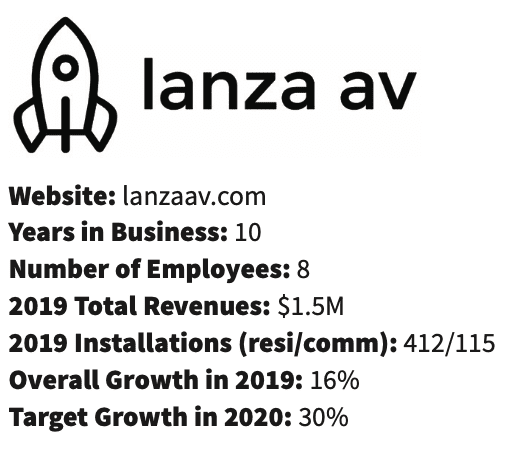 Well, a company who's logo is a rocket ready to launch certainly seems appropriate to be labeled a Rising Star. Although Lanza AV's numbers include triple-digits in commercial work, manager Scott Morris says the company is actually tabling that market to focus on luxury homes, and it's paying off.
Lanza AV enjoyed nice growth in audio/video, networking/controls and security while outfitting homes with multiple six-figure projects, Morris says.
"We are leading with network upgrades and Wi-Fi expanding, which has proven value to customers' experiences with the products we provide," he says, adding that in the audio category "reference-style speakers are being adopted and upgraded with our Boomer customer base."
Whole-house solutions integrating video doorbells and gate/intercom systems have also been more popular with customers who want to swiftly be able to check in on what's happening around their properties.
Lanza AV's biggest boon might be in the 25% uptick in service agreements/RMR it experienced last year. The company offers customers options to select services.
"Customers have adopted and are familiar to subscription-based services," Morris says. "Our tiered member agreements let customers choose their comfort in support, and we adopt their method of communication and response timelines accordingly."
---
SYNC TECHNOLOGY INTEGRATION – INDIANAPOLIS, IND.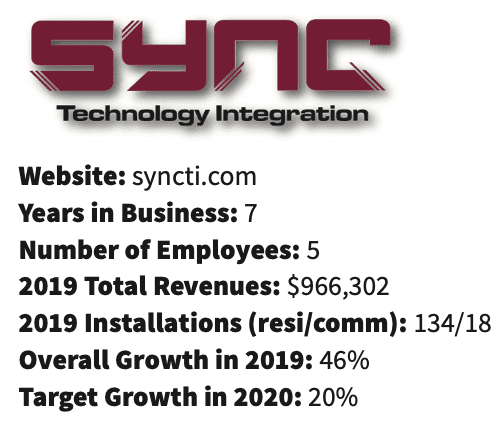 Owner and CEO Gary Jefferies says SYNC TI's rapid growth is due to the fact the company is taking more advantage of its two builder relationships, one of which came about as a referral from the other.
The first builder that SYNC started working with builds homes in the $350K to $550K range. Its main development is slated to have over 1,000 homes (the builder is less than halfway there now) and is the most rapid-growing development in the state of Indiana, according to Jefferies.
"Most of their clients are building their last home and aren't terribly interested in purchasing big, invasive systems. With these homeowners, we've really tweaked how we treat them by focusing more on basic automation through Alarm.com or DIY products.
"We've found there's a very large sector that falls into this category and a lot of our competitors don't want to attack it because it may not make them the most money on a project," he says. "There's plenty of projects to be had in this area if you understand how some of the DIY products all work together and can fit a homeowner's lifestyle."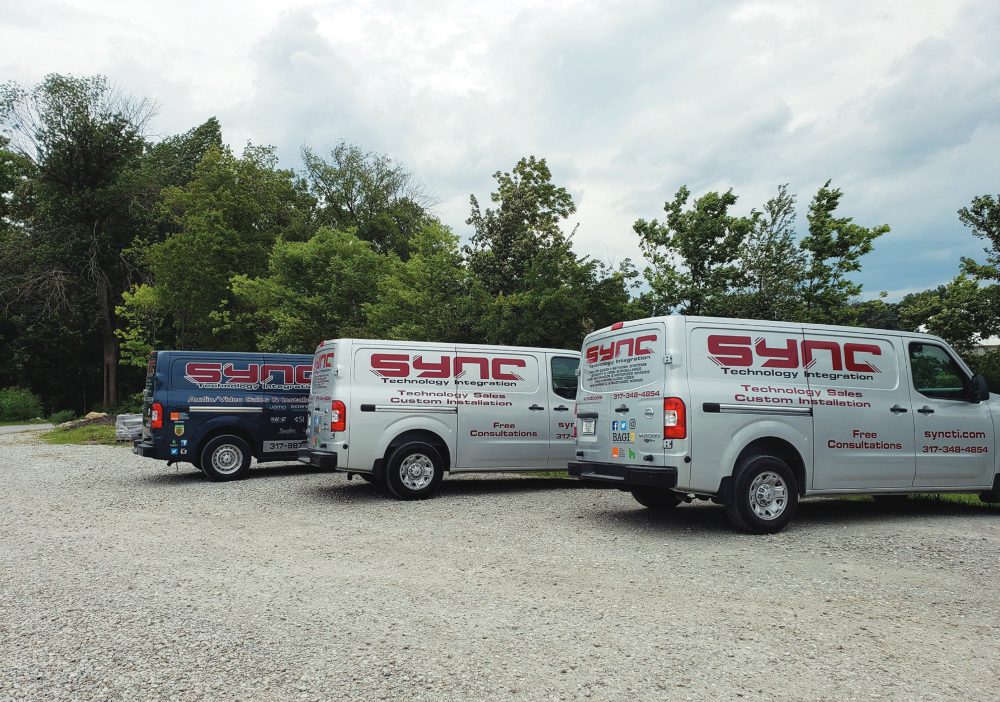 This particular builder also has a design studio, two sales centers and four model homes where the integrator can display the majority of products it installs so prospective homebuyers can get an early look at the possibilities. More good news for SYNC, the builder has a new custom development going in right behind the main development, and homes will range from $700K to $900K, Jefferies adds.
"Having these homes come up is giving us a better ability to showcase more of our custom talents," he says. "These are the homes where we're getting to do more architectural speakers, landscape lighting and heavier audio/visual."
The second builder focuses on downtown Indianapolis townhomes and rental properties that cater to Millennials. The properties include a mesh network system, which is the majority of what SYNC does in the partnership, but also all the structured wiring, security systems and smart device installation around Alarm.com mainly.
"We've modified our offerings quite a few times through these builder relationships to be able to cater more to what people are wanting. We revisit the offerings with the builders' design managers and even take into account some feedback from a few homeowners here and there," Jefferies says.
---
AVIDIA – NORTHBROOK, ILL.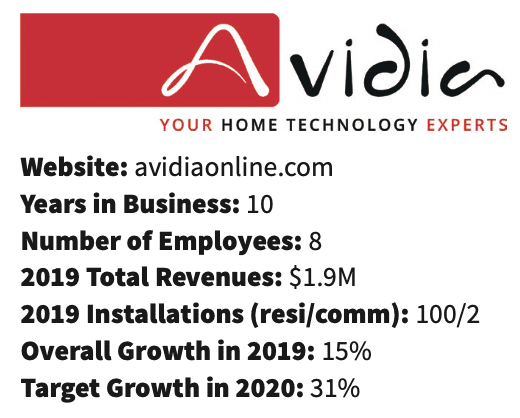 CE Pro has been well aware of this Rising Star, putting co-owners Matt Cwiokowski and Kamil Lazarczuk on the cover of this year's April issue. The profile centers on a couple of major Avidia initiatives — the company's rebranding efforts to attract higher-end clientele, and a focus on getting service contracts.
The rebranding push coincided with a website revamp with One Firefly's Mercury Pro platform, which allows Avidia to include more photography and videos of projects that speak to a luxury experience. Early results of the efforts have been paying off with fewer but larger-scale projects with higher average ticket prices.
For service offerings, Avidia has four support membership packages, which are all spelled out on its website where it also itemizes the costs for those who do not want to pay for a service agreement.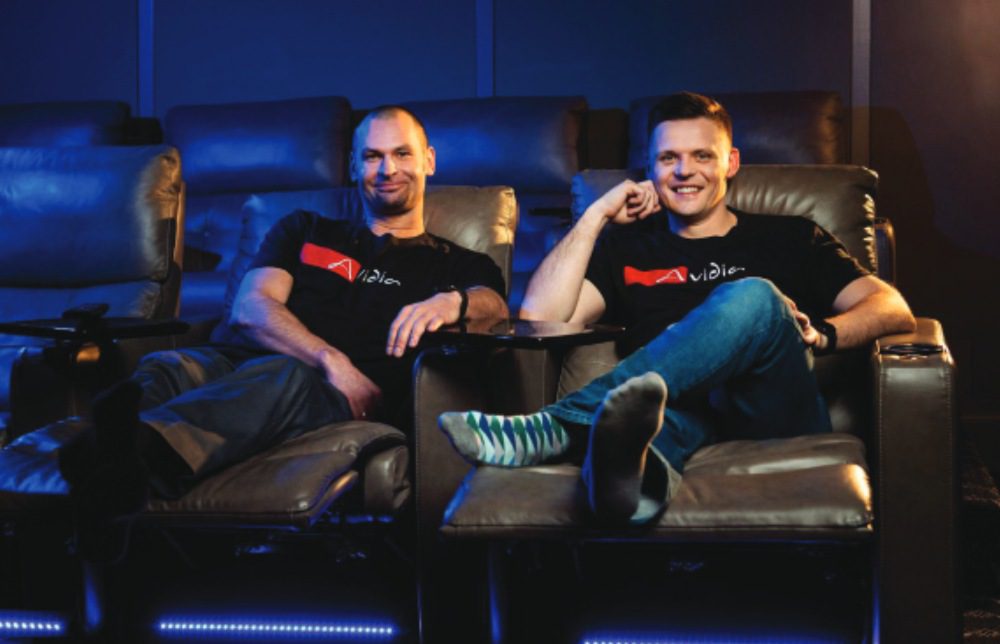 "We support every client 24/7," says Lazarczuk. "Even if somebody doesn't pay us monthly, we still provide them service on demand but they're being charged for every interaction. If they call at night, we have a 24/7 system in which our people will answer phone calls, emails or text messages."
The company also got state licensed to provide security services and provide security monitoring as part of its support tiers.
"We introduced support memberships and in one year have signed up over 100 accounts, finishing our year with $6K monthly revenue. Opening the security department and introducing service memberships opened a completely new perspective of growth for 2020," Cwiokowski says.
---
BRITE AV SOLUTIONS – PARK CITY, UTAH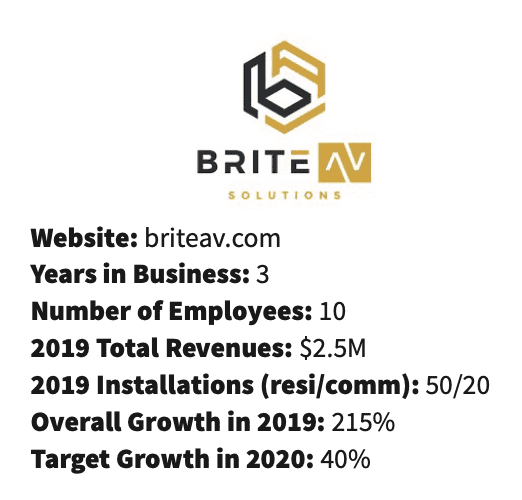 It sounds simple, but president Ryan Kohler says Brite AV Solutions followed a growth plan that focused on three elements last year: service, brand awareness, and quality installs. The company has worked tirelessly to establish and deepen relationships with builders in its famed Utah locale where two resort towns comprise the majority of business — much of which are owners' vacation homes.
Park City sits high up in the Wasatch Mountains, east of Salt Lake City. The area is known for its ski slopes and it hosted the 2002 Winter Olympics. The town also hosts the famed Sundance Film Festival, the nation's largest independent film festival.
"We work hard to not just be a one-and-done company, but to establish relationships with our builders and clients so we can do their work for not only their current house but the next house or project they do," Kohler says.
"Our primary work comes from two small resort towns where the owners build second or third homes, working hard to create a solid brand within those markets has been a top strategy of ours. Having a solid brand has allowed us to win bigger deals and compete with competitors that have businesses much larger than ours in both revenue and staff."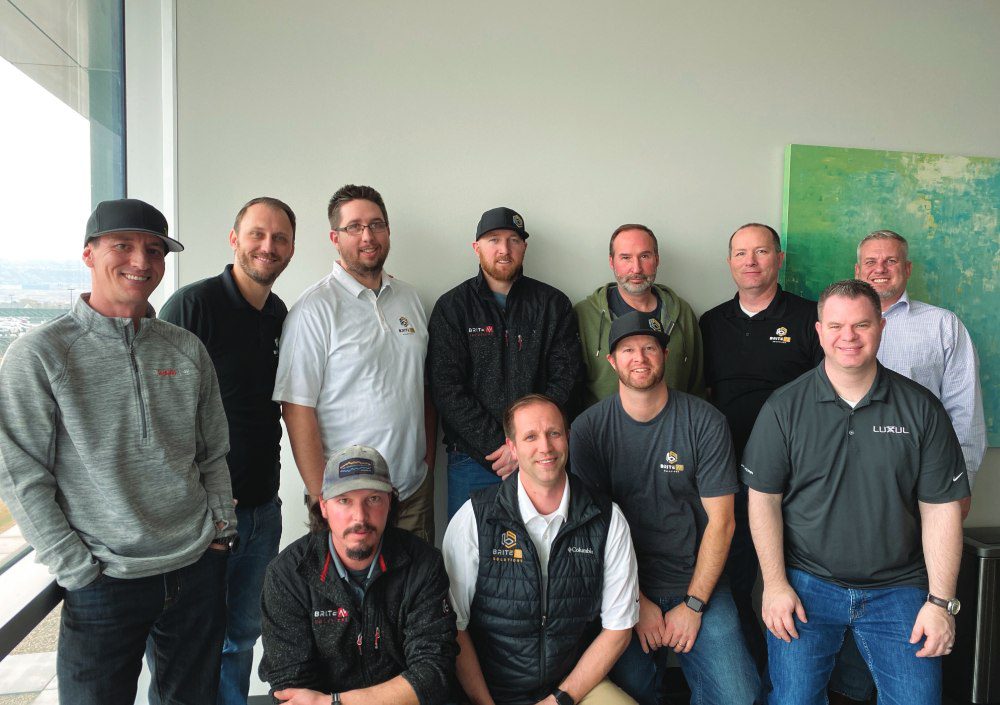 In terms of technologies, Kohler notes that Brite AV sells networking as a baseline to start the conversation for all low-voltage and AV applications, and employs enterprise-grade gear. On the AV side, the company has found success selling products as bundled solutions.
"It allowed what would normally be a four-room system to expand to an eight-room system. We also focused on selling to more mid-sized theater applications, which allowed us to do more volume," he explains.
In addition to the vacation homes, Brite AV has gained commercial jobs from its builder network, and focuses sales and marketing on builders that specialize in commercial work.
---
REFRESH SMART HOME – MOUNT KISCO, N.Y.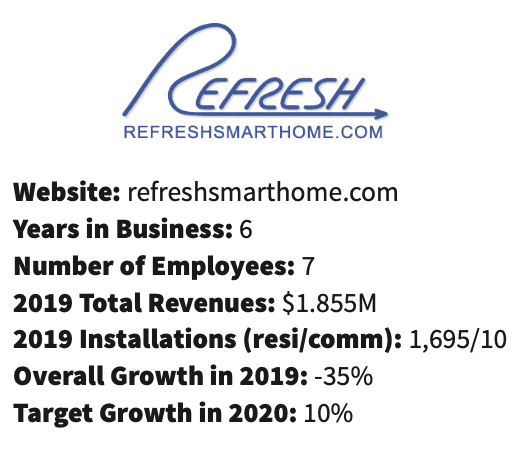 Don't let that growth percentage fool you; Refresh Smart Home director Don Ham explains the company had some operational issues it needed to rework last year that impacted the overall numbers. Its start to 2020 is more representative of the integrator's trajectory. But the real reason CE Pro pegged Refresh Smart Home as a Rising Star is its growing influence in the wellness sector, particularly in indoor air quality (IAQ).
"2019 started well with being on track for 10% to 20% growth vs. 2018 but we faced licensing issues in many of the states we were operating in where we needed to shift from a 1099 model to a W2 model. This transition caused a lot of challenges where we needed to pivot and even suspend markets until we could bring up the service quality levels as well as create better efficiencies all around," Ham explains.
"For 2020 we have ironed out a lot of the inconsistencies and expect 10% to 15% growth especially as we shift more of our core business to the Healthy (Integrated) Home which has grown consistently over the past year with the convergence of wellness into the smart home space."
That Healthy Home offering is helping to differentiate Refresh Smart Home, which is buoyed by Ham's role as CTO of Pure365, a supplier that's created high-quality IAQ packages for integrators to sell and install.
As an integrator on the leading edge of IAQ and an expert in educating customers in this field, Refresh Smart Home has enjoyed month-over-month growth in Healthy Home for the past two years, Ham says. And this spring, as the coronavirus brought IAQ further into the spotlight, Pure365 signed on a flurry of dealers to sell the good/better/best solutions that can run $3,600 to upwards of $18,000.
---
SOUNDWAVES CUSTOM HOME INTEGRATION – GLADWYNE, PA.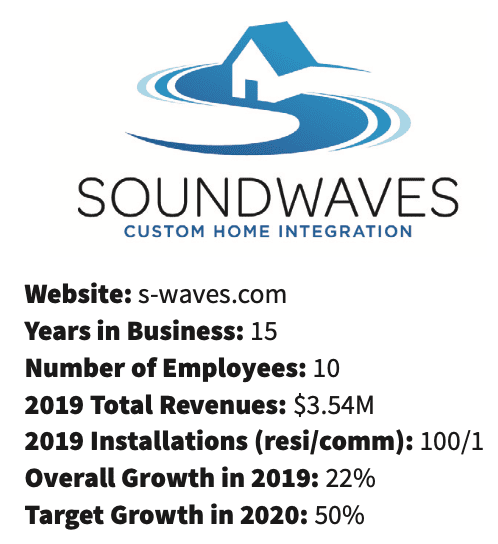 SoundWaves has been around for a bit, but the company hired a project manager last year and it really has changed everything, executive manager Stacy Abramson explains.
"Before we hired a project manager, our owner [Joe DeMarco] was handling most of the behind the scenes things, especially design and programming when it came to all areas — lighting, shading, AV. The PM we hired, Rich [Williams], has extensive experience in all these areas, so he is able to do as much of the design work as needed for these jobs — his degree is in aeronautical and astronautical engineering. He is also able to talk with builders about the details; even if he is not the one who designed the layouts because his knowledge is so extensive," Abramson says.
Williams also brought a wealth of experience in motorized shades, enabling SoundWaves to confidently take on larger shade projects without concern that the owner's plate is too full. Additionally, the PM's experience in security and alarms is helping the firm integrate security into its service offerings.
"Rich is our first PM, so we were not 100% sure what to expect," Abramson says. "He learns everything he can — from new product lines to design software. Behind the scenes he works hands-on with blueprint prints to add shades, lighting, etc. He also works with homeowners and all outside team members (designers, architects, builders, etc.), during the entire process to make sure the client and team remain on the same page."
One example of Williams' willingness to go the extra mile to learn new things to aid the company came when SoundWaves landed a large lighting project that involved Ketra. He spent countless hours gaining as much information on the product line, which was still fairly new to the company, so he and DeMarco could design a system that exceeded expectations, Abramson says.
---
SOUNDVISION – MOORESVILLE, N.C.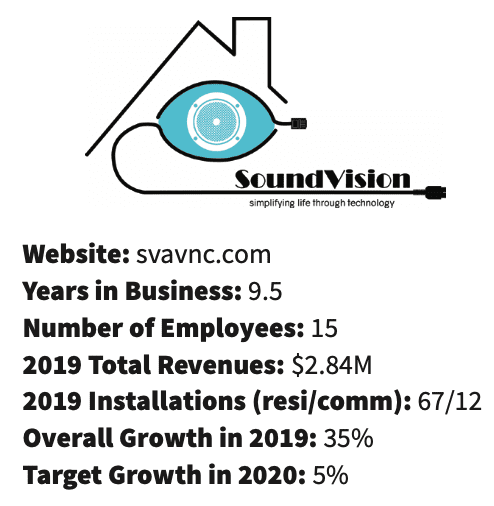 SoundVision is making a leap to the next level by concentrating on three P's, according to managing partner Mark DiPietro: process, people and product.
"I think developing, massaging and perfecting processes in all areas of our business are critical to our growth and sustained success," he says. "Further, we have created a marketing team in-house, and have created a real budget line for this, focus time through meetings on it and made a huge effort to increase our social media presence. We have also worked on targeted direct mail, and even advertise on billboards during rush hour."
SoundVision's key target area of improvement for 2019 was service agreements/recurring monthly revenue (RMR), where it grew 37%.
"It falls under 'inspect what you expect,'" says DiPietro. "This was our biggest focus in 2019, taking our service memberships in house, crafting our own system and controlling it ourselves. It's also the result of having a goal of reaching 5% of top line revenue within three years. In 2019, we surpassed the 2% mark for the first time ever."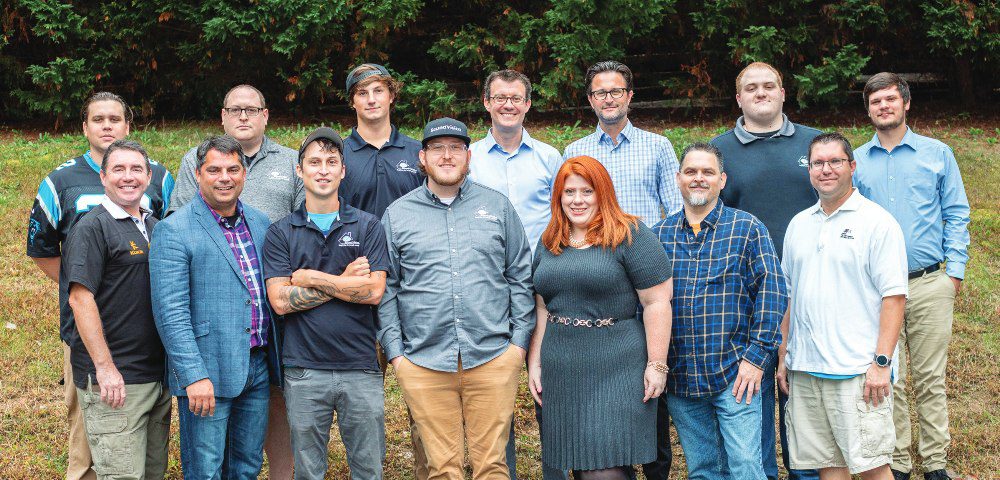 The company also had a particularly strong year in commercial (up 150%) and AV/home theater (up 54%). "We had a number of fantastic theater designs and installations in 2019, with an increased knowledge in design capabilities, which really was the catalyst for the growth in this category," he says of the strong AV business.
Meanwhile, two commercial jobs of more than $200,000 and $80,000 sparked the bump to the company's typical production in that market.
"We did learn from the larger project how important lighting plays into the equation in the commercial space," DiPietro notes. "Armed with that knowledge, we are making a concerted effort to increase our commercial lighting sales in 2020."
---
MAVI – SHAWNEE, KAN.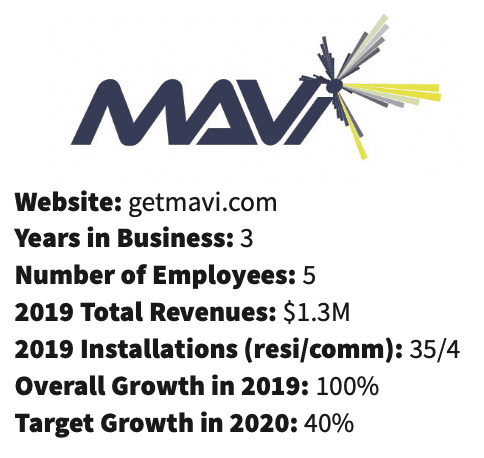 MAVi principal Ben Manning says the young company made it its mission to find out what its customers need and what they expect. "After listening to them explain what they need — as opposed to us telling them what they need — and listening to the complaints that they may have had with previous integrators, we heard some common themes," Manning says.
"They want things to work and be easy, they want support and they want a solid communication. We have used this feedback as a structure for how we interact with our customers," he says.
That's especially true when clients call for service, where team members are taking responsibility to help resolve issues and collaborate with the ISP provider or other trades if necessary to ensure things are worked out. The company has invested in its support staff and toward the end of 2019 was able to offer 24/7 support, Manning says.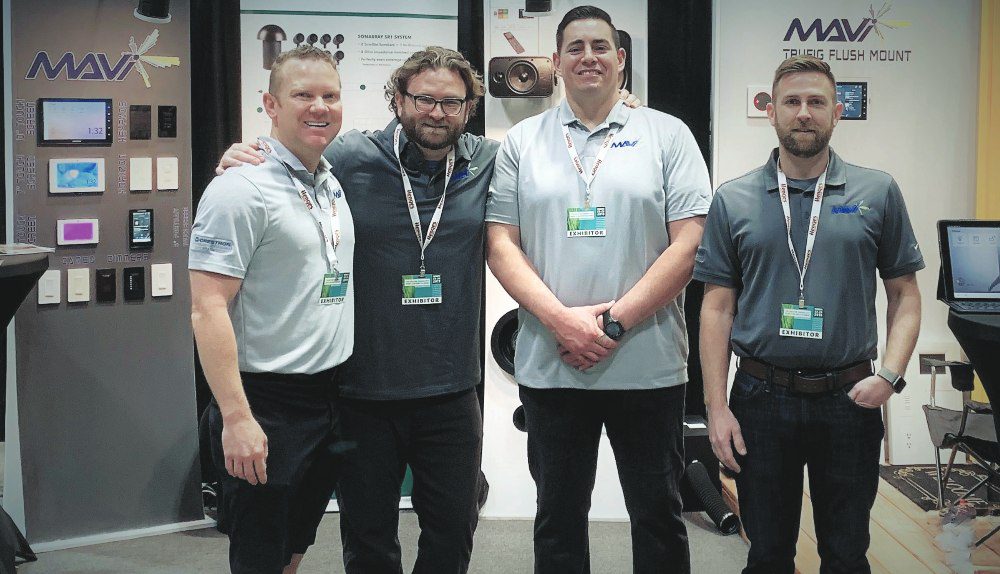 "Avoiding the pitfalls has helped our referral business greatly and has allowed us to develop great relationships," he says. Among the relationships, he notes that MAVi has focused on cultivating them with builders and designers.
Meanwhile, on the technology side MAVi has received a boost from updating to the Crestron Home platform, Manning says, as a key factor in the company experiencing 100% growth in control/networking last year.
"We invested in a showroom for our customers to test some of the equipment out for themselves and get a feel for the interface. This really helped our customers understand the overall concept of what we design and install," he says.
---
DUPONT PRO – SIOUX FALLS, S.D.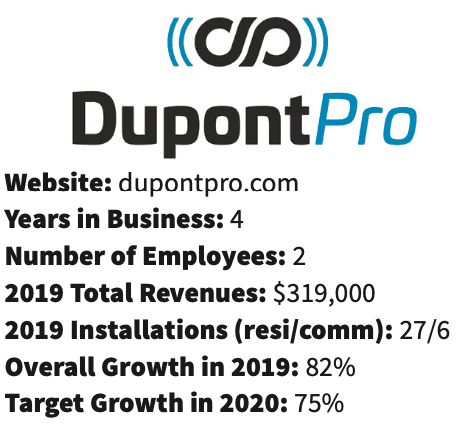 For a two-man operation, Dupont Pro has been able to extend its reach by capitalizing on its vendor partnerships, building brand awareness, generating a strong referral network and receiving great online reviews on Google and Facebook, according to owner Tony Dupont.
He and Chase Lythgoe split the work; Lythgoe is the network tech guru with a strong background in network security, Dupont says, while he stays focused on sales, marketing, system design, project management and assisting with all installations.
The marketing portion includes carving out even just a little time to work the social media angle, while vehicle wraps and construction signage also account for Dupont Pro's awareness efforts.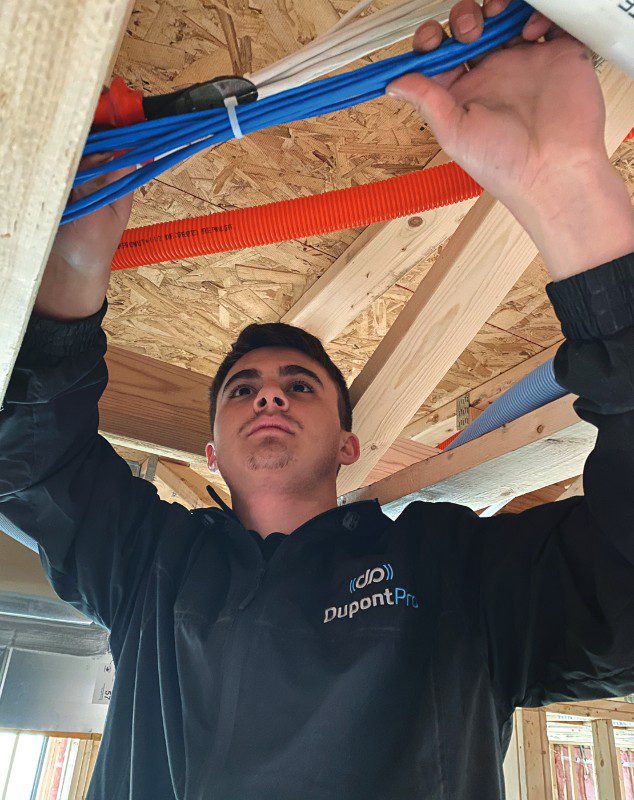 "I've found the key to social media marketing is consistency. I made a goal of posting twice a week on Facebook. This can be anything from project updates, drone flyovers, new product announcements, etc.," Dupont says. "After seeing how much traction a particular post receives, I'll 'boost' the top performers to reach a wider audience. This is geo-targeted to various zip codes we service. Video posts always seem to perform the best."
Technology-wise, Dupont Pro has found success using brands such as Savant and Josh.ai on the control side, implementing SnapAV and its OvrC cloud management, and Epson and Sonance to spark AV growth.
Dupont says the company has been able to form close bonds with its residential and commercial customers, enabling confidence to ask for referrals and reviews post project.
"We always strive to make this the best experience possible. After all, we do spend a lot of time with our clients, in their space," he says. "The best way to get an online review … just ask. Most clients are happy to help spread the good word on a growing small business. We make the process as easy as possible by providing clients with direct links to our Facebook and Google Business page."