What was the first event to which you went after lockdown? Mine was the Van Gogh Alive exhibition. I was a little conflicted at first. I hadn't been around more than 10 people at a time in about a year. I hadn't been to any venues (apart from the grocery store). And yet, I brought tickets to go check out an event that was showcasing art within an enclosed space. 
Why did I do it? Probably because I geek out over things like Van Gogh Alive, and I'm not alone in doing so. We, as #avtweeps, step into a space and automatically look up to see what's installed. It's just what we do. I wanted to know what technology was driving those larger-than-life images being shown. I wanted to be inspired. I wanted to feel some sense of normalcy again. Most of all, I wanted to experience it for myself — and to do so in person. It wasn't something I could livestream or join a video call to participate in. The event created a sense of "You have to physically be here" to really grasp the full experience.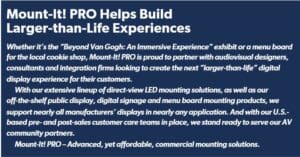 While there, I took pictures. I even created a video to try to capture the experience, sharing it with those who weren't willing or able to risk going back out into the world just yet. But, for me, there was nothing like being in that space…being immersed in art powered by AV technology. Immersive experiences drew me — and draw us — back into the world. These kinds of events brought us back to sharing experiences together. It created a sense of purpose…of community…of fellowship…of excitement through so much tragedy. Immersive experiences helped us to feel a part of something again. 
Van Gogh Alive was one of those things that took off across the country and, slowly, city by city, it brought us back together. 
The Art of Engineering
Immersive experiences aren't new. However, they have been pushed to the forefront as human beings like us find that we need and want to experience all our encounters on a higher level. What's driving this? Well, we can do a lot of things from the comfort of our homes, without ever getting off the couch. We can buy clothes and food online, so why go to a store? We can experience our favorite musicians, performing live in concert, almost from anywhere in the world, with extremely high quality and without throwing ourselves into a mosh pit. Our standards for being lured from our homes have been raised exponentially. 
The art of design and engineering is now being driven by out-of-the-box creativity. These days, creating spaces that people want to leave their homes for is the main focus across verticals. Those in our industry are laser focused on making these spaces inviting, functional and immersive because those facets are key to the "why" for people to venture out into the world.
Over the years, we've seen companies like Integration Awards winner Electrosonic innovate experience design by fusing 
architecture
, storytelling and technology. If your integration team isn't currently designing or looking to design immersive experiences that create a sense of purpose and wonder within communities and brands, they should be.
Create Something People Look Forward To
Immersive has been the past, and it's certainly the present and the future. ISE opened up with projection mapping for thousands of people, and the keynote address was delivered by one of the biggest names in digital art. None of this was a coincidence. InfoComm had offsite tours to highlight immersive experience across verticals. None of that was coincidental, either. 
These trends will not die off. Our collective "why" is now to design spaces with meaning bigger than the technology we sell. And it's our job within AV to design with creativity, and to design with passion and purpose, so that people have meaningful experiences to look forward to, contrasting with the backdrop of ongoing tragedy that we see on the news every evening. 
This article is brought to you with the support of Mount-IT! Pro