*Originally published on CEPro.com
Harrison Home Systems, one of the nation's leading custom residential integration companies, receives CTA's most prestigious award.
The Consumer Technology Association (CTA) has named Harrison Home Systems (HHS) of Lakewood, Colo., as its 2021 CTA Smart Home Integrator of the Year. The award recognizes the premier electronics system contractor in the industry. It is the most prestigious award in the 2021 Smart Home Mark of Excellence Awards program, recognizing the best in custom installation, which this year were presented during Digital CES 2021.
Harrison Home Systems (HHS) was founded 18 years ago by George and Kassa Harrison. The 2021 CTA Integrator of the Year award culminates a year in which the company exemplified innovation and excellence by experiencing rapid growth, winning several industry awards, and being recognized as industry experts by peers and manufacturers.
"Receiving the Integrator Of The Year Award, in this year of all years, during the pandemic, and in the midst of so many changes in our business, is first and foremost a testament to the strength and resilience of our amazing team. This award, without question, is for them. Our current group of incredibly talented team members is the most caring, collaborative, passionate, and dedicated professionals we've ever had the privilege to work with. Kassa and I are proud to receive this award on their behalf," says George Harrison, principal.
He continues, "On a more personal level, this award also brings a sense of professional validation. Running a small business is really hard. Running a Custom Integration business in the Luxury Residential Technology space is even harder. Trying to innovate and take chances on new cutting-edge technologies, fledgling product categories, and new business practices, adds to the already significant risk and uncertainty of it all.
"Receiving this recognition for what our team has collectively accomplished this past year, during such a difficult time, really does help make it seem more worthwhile. There are many days where you wake up and question whether it is all worth the pain and immense effort required? To receive and share this award with our team really does bring in to focus, and reminds us, that we are all really doing innovative and meaningful work within our profession, as recognized by our peers.
"This really does help bring a sense of accomplishment to it all and we are sincerely grateful. We are truly fortunate to work among so many brilliant and talented people within our CI industry, many of which are so generous of their time and so supportive of one another. Kassa and I are genuinely humbled and appreciative to have such a great team, and to be a part of this wonderful, dynamic community!" he adds.
More Than 100% Growth in 2019
In 2019, HHS had a banner year, increasing its revenues by over 100% due to success in luxury condos, and its increasing reputation as a go-to integrator for high-profile custom home projects in Denver. In 2020, the Denver Business Journal named HHS as the 8th Fastest-Growing Small Businesses in the region. The company also adopted the Entrepreneurs Operating System to provide our talented team with a formal operating system and to gain tools to organize and run our company better.
As part of its recent growth, Harrison Home Systems purchased a 10,000- square-foot building west of Denver. The facility will house its new experience center showroom, which features a dedicated theater, lighting lab, shading collaboration area, a luxury kitchen with hidden televisions, lighting from Ketra and DMF Lighting, a Seura TV mirror, and office space for its 23 employees.
Harrison Home Systems 2020 Awards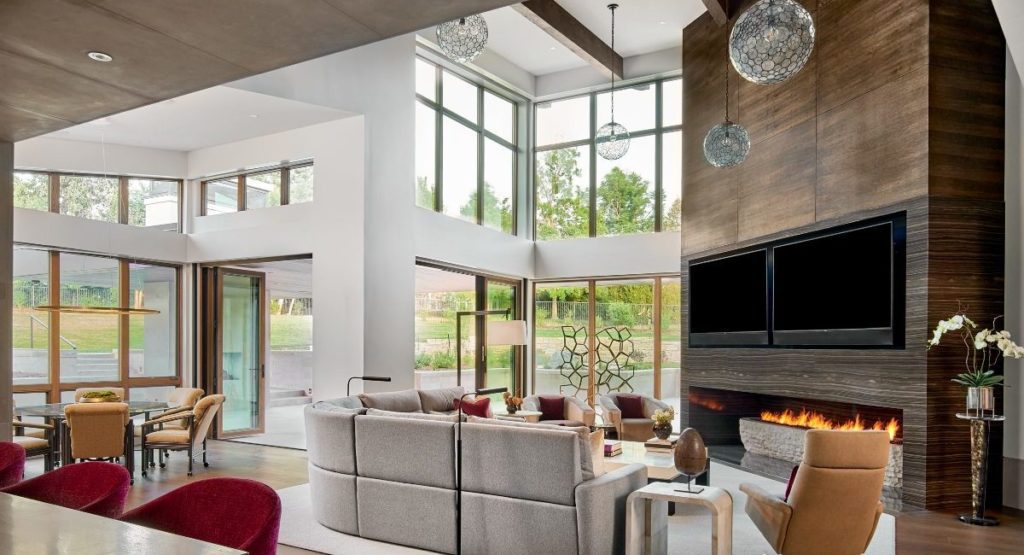 In 2020, the CE Pro 100 company completed a showcase custom residence called "East Meets West." It's a 13,000-square-foot home with a fully integrated Savant and Lutron lighting and shading system. The home boasts 110 motorized roller shades, 18 zones of distributed audio, a dedicated home theater, full integration of HVAC, security, surveillance, a business-grade video conferencing system, and a custom-drop down ceiling-mounted TV lift in the master bedroom.
For this project along, HHS won:
2020 CEPro BEST Awards Home of the Year over $150,000 – Gold
2020 CEPro BEST Home of the Year Award Master Suite – Gold
2020 CEPro BEST Home of the Year Award Shading Project – Gold
2020 CEPro BEST Home of the Year Award Home Theater $25-100k – Gold
2020 CEPro BEST Home of the Year Award Lighting Control Project – Silver
2020 Lutron Excellence Award – Best QS or Triathlon Shading Project
CEDIA 2020 Integrated Home of the Year – Americas – Finalist
Innovation, Expertise & Wellness Certification
HHS was chosen as the exclusive technology provider by developers of five top luxury condo developments in the past year including two Well Certified buildings. With its condo packages, customized websites for each condo development, and a focus on Wellness, the company is a leader in luxury condo technology. HHS developed custom project websites for integrators in other markets and consulted with them to pitch developers and successfully implement project
With a Well Certified staff member, the company is pushing the envelope for the Wellness movement. HHS registered its showroom buildout with the Well Institute and seeks to be one of the first Well Certified technology showrooms in the country. HHS consults with its condo developers to design and incorporate Wellness technology into their projects.
Harrison Home Systems is also leading the industry's charge into the lighting fixture business. George Harrison was featured on an expert industry panel in May of 2020 to discuss innovations in lighting fixtures and voice control and how HHS has found success incorporating these solutions into luxury condo projects.
SERVICE DURING THE PANDEMIC
With over 100 unique households on Parasol, HHS provides first-class 24/7/365 remote monitoring and service to our clients. The October issue of Residential Systems Magazine highlighted the company's dedication to servicing its clients remotely in a time when people are sensitive to a technician entering their home.
COMMUNITY INVOLVEMENT
Passionate about the custom electronics industry, Harrison Home Systems is a member of CTA, CEDIA, and HTSA. The company invests heavily in training and certification and its team is among the most highly trained in the industry. HHS supports the organizations that fuel the local design industry to show its trade partners the company is invested in their success.
Some of HHS's industry partners include:
Construction Resource Group (CRG)
HBA of Metro Denver – Custom Remodel Council
Home Builders Foundation
AIA
ASID
Friends of Architecture & Design – The Denver Art Museum
Institute of Classical Art & Architecture