*Originally published on CommercialIntegrator.com
In part one of a two-part series, we highlight some of the military vets who've moved into AV and found things they learned while enlisted translate well.
Most young people don't enlist in the military thinking it'll someday be their ticket to a long career in AV integration, but there are plenty of skills learned while serving one's country that translate surprisingly well in high-tech industries.
With Veterans Day coming soon, we're highlighting a few of the many military veterans who've found their way into AV integration. We'll break this piece into two sections, with the second half coming next Monday, Nov. 9, just two days before the federal holiday serving our nation's finest.
Lavar McDowell, VP of business development and sales at Command and Control Communications, Engineering and Logistics (C3EL), enlisted in the U.S. Army as a high school junior in 2002, shortly after the Sept. 11, 2001, terrorist attacks on America.
McDowell went through basic training the next summer, spent 11 years on active duty in the Army, primarily as a signal support and IT specialist, and has been in the Army Reserves since 2014 because, he says, "I wanted to continue to serve and be in the environment."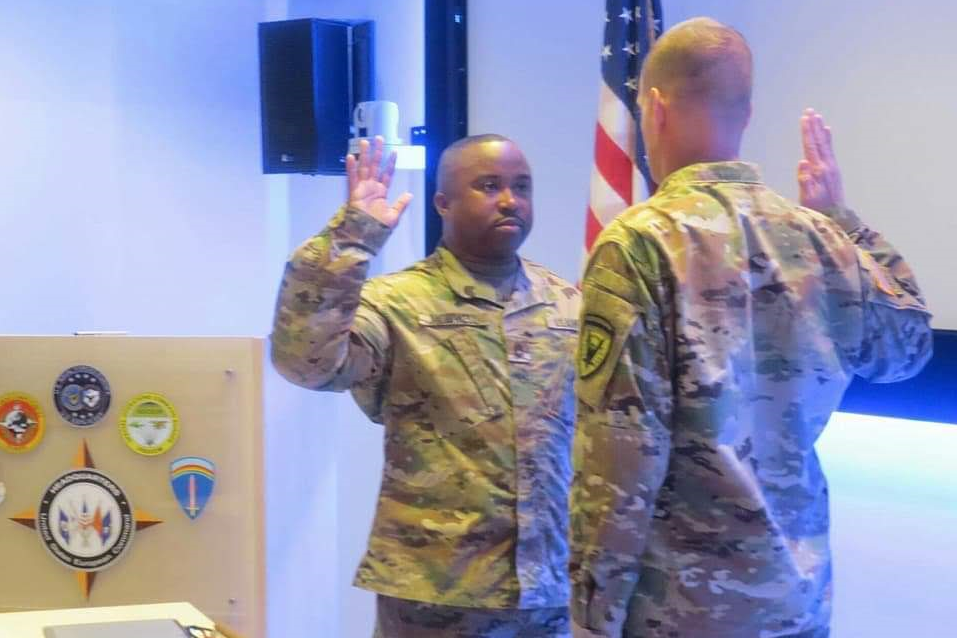 When he was looking for his first post-military job, McDowell was intrigued by C3EL because its ownership team and most of the employees had a military background. He started as a project manager and his military training came in handy through systems and networking skills.
McDowell learned soldering, cable termination, troubleshooting and electrical theory in the Army, all of which "translated well into AV," he says, but there are many more skills that have carried him too, including discipline, finishing a project you start and "taking every task to heart."
"You never do anything half-heartedly, or it may cost you or someone else a life," says McDowell. "What we're doing may not directly cost someone a life, but we enable the war fighters to do their missions now.
"If these systems go down, they can't do their jobs. You understand the significance and importance of maintaining these systems," he says.
McDowell's high-level security clearance is a big benefit in his AV career with C3EL, and the military background from the top of the organization is "the foundation of the culture of our company," he says.
"We speak the same language (as government and federal clients)," says McDowell. "We understand the acronyms and understand that each organization has very specific nuances. We can understand the difference between a Navy captain and an Army colonel.
"The foundation the Army provided me goes with me every day. It's who I am as a leader," says McDowell.
High School Struggles to High Achiever
Alberto Ayulo, senior VP and GM for the Great Northeast division of AVI-SPL that includes Washington, D.C., turned to the military as a life preserver to a young life that saw him more interested in skipping classes than graduating from high school.
He enlisted in the Air Force in 1999, a few days after his ex-girlfriend, and left in 2008. He spent his first three years in Italy and ended his military stint in Little Rock, Ark.
"I was very fortunate and somewhat lucky to get into the military," says Ayulo. "It really changed the trajectory of my career and my life. I don't know what I would have done if I hadn't gotten in."
Ayulo learned project management skills by organizing the weekly and monthly flying schedules for his squadron. He also earned his green belt in the Lean Six Sigma method of training and process improvement, another way he learned the importance of discipline and process.
He also credits his mentors with helping to set him on the right path after spending his high school years primarily on the wrong one. Ayulo is the proud owner of two graduate degrees, a far cry from nearly becoming a high school dropout.
"One of the reasons I'm successful today is the people who I've had along my journey," he says. "I want to give back for those who've given to me." He also learned about consistency and discipline, two skills that help him ensure projects are delivered to AVI-SPL clients the way they should be today.
After his Air Force stint, Ayulo went into management consulting for three years, then joined Johnson Controls before coming to AVI-SPL three years ago.
He enjoyed a brief foray into AV during his Air Force stint, when he volunteered to refresh the technology in his base's conference room, including building a screen and buying and installing a projector, but he doesn't expect to be called into duty any time soon at AVI-SPL.
"Maybe it was in my heart early on that I'd end up in AV," says Ayulo with a laugh.
Ayulo is working to develop a pipeline of military vets to join AVI-SPL, whether they have AV backgrounds or not.
"Technology is absolutely critical to the day-to-day operations of the military," he says. "I wouldn't want to be the integrator where something failed and it cost people their lives. This is a way I can give back to them.
"You don't have to have an AV background to be successful. As a project manager, you're the quarterback of a particular project. If you have smart people around you who are very technical, that's more critical than having an AV background," says Ayulo.
"Communication and the project schedule are more important to the client," he says. "Having someone who understands how to get to the deadline is absolutely critical."