SSI Summit Stars is a new monthly department that highlights some of the security industry's most progressive integrators that have attended the SSI Summit. This exclusive, invitation-only event is held annually in conjunction with the Total Tech Summit, which includes hundreds more integrators from the residential and commercial A/V fields.
This month, SSI hears from IntraLogic Solutions Chief Strategy Officer Richie Perna.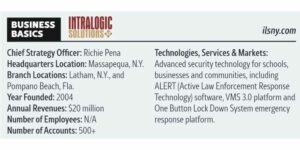 TECHNOLOGIES, SERVICES & MARKETS
Advanced security technology for schools, businesses and communities, including ALERT (Active Law Enforcement Response Technology) software, VMS 3.0 platform and One Button Lock Down System emergency response platform.
LEADERSHIP STATEMENT
IntraLogic Solutions is a security technology solutions leader for schools and school districts, utility companies, mass transportation authorities, governmental agencies and large business enterprises. I joined in 2014 and led expansion efforts regionally and nationally, including the company's geographic footprint, market share, client acquisition and staffing. I enjoy and have the pleasure of working with security technology experts, law enforcement and education sector leaders who share a common purpose of making campuses, businesses and communities safer. Serving the security sector provides me with a unique opportunity to identify challenges and implement effective solutions that protect children and others from real threats and dangers. Knowing we are making a difference is personally and professionally rewarding.
TOP 3 CHALLENGES
Staffing. We are in a sector that is growing and we need quality talent to achieve goals. Securing talent is a challenge, thankfully we are growing in all our markets and people do gravitate to companies like IntraLogic Solutions that are doing well.
Security technology demand. For many reasons violence and crime are on the rise in the United States. These concerns are driving the need for security solutions, especially technology like ours that is advanced and effective.
Transitioning from pandemic. Our primary market of schools saw many closed and students educated remotely due to the pandemic. As students return and communities open, the new normal brings concerns about mental health, violence, suicide and drug and alcohol abuse, which impacts security.
TOP 3 OPPORTUNITIES
ALERT (Active Law Enforcement Response Technology). Rapidly connecting schools and businesses with law enforcement is critical and we see the demand for our ALERT growing significantly.
School Safety Grant. We work closely with this program (schoolsafetygrant.org) to provide software grants that allow the use of our technology offerings to enhance security and emergency response.
Cutting-edge technology. Technology is constantly changing, and we have a tremendous team of programmers and developers. Advanced AI and analytics are being used more every day. We are seeing customers across the board interested in and wanting it.
TOP 3 DIFFERENTIATORS
Leadership – Lee Mandel, our founder and CEO, is a true visionary and national leader in school and community security technology. He not only understands and helps to build the technology but he is a forward-thinking business leader. He is by far one of the top experts in school and facility security technology in the nation which gives us a tremendous competitive advantage in the market place.
At IntraLogic we are a company that has a strong product and software development team. We create our own products and software. This technology is integrated into our services and onto existing platforms. Taking this approach enables us to work with virtually any client and they do not need to invest in completely new systems in order to leverage our industry leading technology. We also manufacture our own cameras and other equipment that allows us to provide even greater support to clients.
The team at IntraLogic and our consultants are experts in a multitude of sectors and markets. We have technology and software experts, installation professionals and security industry leaders. Members of our team are individuals with decades of experience as school administrators, former law enforcement professionals and others from the business and education sectors that allow us to effectively communicate and serve our growing client base.
*Originally published on SecuritySales.com*