SSI Summit Stars is a new monthly department in Security Sales and Integration that highlights some of the security industry's most progressive integrators that have attended the SSI Summit. This exclusive, invitation-only event is held annually in conjunction with the Total Tech Summit, which includes hundreds more integrators from the residential and commercial A/V fields.
This month, SSI hears from Vector Security President and CEO Pam Petrow.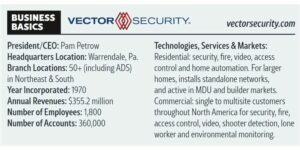 LEADERSHIP STATEMENT
My career with Vector Security started in 1982, working in numerous capacities including sales, branch/district management, and several corprate positions. I was promoted to COO in 2008 and named CEO in 2010. In 2012, I had the honor of being elected to the SSI Industry Hall of Fame and earlier this year was appointed to The Philadelphia Contributionship Board of Directors, Vector Security's sister organization.
I have always believed in participating in security associations, having held leadership roles, and volunteering within our local communities. We are fortunate to work in an industry where every day we see the value of what we do for our customers — protecting lives and property and providing peace of mind for residents and business owners. What we do matters.
TOP 3 CHALLENGES
1. Talent. Finding individuals with the skills and attitudes that support our Mission & Values is a challenge. We have made changes to our recruiting methods, onboarding and existing team member engagement as part of our effort to address this challenge.
2. Pace of Technology. Technology continues to change at a pace that can be challenging to keep everyone current. We have redefined our product/solution launch so we have a process in place that will create the best internal experience and highest success rate for launches of new products and solutions.
3. Changing Customer Expectations. Customers now expect customized solutions and alternative ways of doing business with you. We continue to work with our partners and build out internal customer portals that will enhance their experience with us and make it easy to do business with us.
TOP 3 OPPORTUNITIES
1. Technology. It is an exciting time to be in the space with new technology being released all the time. New entrants in the market are challenging the status quo and making everyone be more creative and agile to stay competitive.
2. AI. The opportunities to utilize AI within our solutions set are varied and will create incredible value to the customers, first responders and the industry in general.
3. ERP System. We just began implementation of a companywide ERP [enterprise resource planning] system that we believe will enable us to be more efficient, create a better customer experience, and provide integration opportunities with other partners and customers.
TOP 3 DIFFERENTIATORS
1. Our Team. We have a team of passionate individuals that care about what they do every day, which translates into a low attrition rate and a steady flow of referral business. We live our company mission and values every day.
2. Customer and Partner Portals. We have built out our customer and partner portals to enhance their experience and streamline their interactions with us.
3. Market Size. We are in a perfect place that is large enough to have the resources to stay relevant, yet not so large that we have lost touch with the local markets and the individual customer expectations.
*Originally published on SecuritySales.com*