SSI Summit Stars is a new monthly department that highlights some of the security industry's most progressive integrators that have attended the SSI Summit. This exclusive, invitation-only event is held annually in conjunction with the Total Tech Summit, which includes hundreds more integrators from the residential and commercial A/V fields.
This month, SSI hears from Watchmen Security Services President and CEO Lucas Ingala.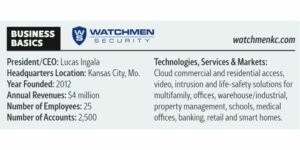 LEADERSHIP STATEMENT
My goal was to have a company that was different from the rest; to influence the industry, impact people's lives and be the best. From that, Watchmen Security Services was born. I have worked with large industrial clients to police departments to small businesses to schools to religious organizations to multifamily commercial to homes.
I have strived to create a foundation and culture of integrity and excellence that Watchmen was built upon and stands by its daily operations. Because of that, Watchmen is changing the face of the security industry in the Kansas City metro area and will continue to do so. I am also true to my faith, dedicated to setting up a legacy for my family and my associates for generations to come. The thing I enjoy most about the security business is working with people. I love being able to serve my team and customers daily.
TOP 3 CHALLENGES
1. Growth. Getting the right people in the right seats, getting the right structure, setting up the right metrics, finding out what does scale look like, maintaining healthy cash flow, maintaining a healthy war chest, staying aligned and living out our core values.
2. Process. Effective processes, the Watchmen Way; the right workflows to keep the machine humming. Our operating system is what we are using to help direct some of this along with wisdom.
3. Automation. Automating any manual processes to eliminate bottlenecks; our ERP is helping to eliminate these bottlenecks.
TOP 3 OPPORTUNITIES
1. Building Automation. We are getting heavy into the multifamily vertical with in-unit and building automation. We are leaning more into our Cloud partners to make this happen to develop one ecosystem for tenants and property management companies.
2. AI and API Partners. AI is changing the landscape of the security industry and how it will look in the future. Examples include license plate tied into parking ticketing, outdoor intrusion monitoring with guard stand-down, anomaly detection, POS integration, exception-based rules and reporting.
3. People Development. We have leadership development training that is getting great traction. We also subscribe to a service with tools available for our entire workforce, dealing with issues on parenting, marriage, finance, etc. We believe in investing heavily in our people.
TOP 3 DIFFERENTIATORS
1. Our people and the way we do business. We invest heavily into our people not only professionally, but personally as well. This develops a culture that is beyond me. Living and breathing within our organization. We hire, fire and promote around our core values. We also invest heavily into platforms that allow our employees to do their job well and as effective as possible, setting them up for success.
2. Technology. We are primarily a Cloud-based security integrator, this is a little different than other big integration companies that deal with a lot of onsite systems. We offer proactive health monitoring of all our systems and are at the cutting edge of AI and API partner offerings.
3. Responsive service. Most of our customers are helped within 24-48 hours. We don't allow any new tickets in a new status longer than 24 hours. This keeps us on top of all our client's demands.
*Originally published on SecuritySales.com*