*Originally published on CEPro.com
Integrator outfits more than 200 pop-up coronavirus COVID-19 testing stations with mobile SnapAV Araknis networks and Luma video surveillance gear.
When the coronavirus COVID-19 hotspots began to stress the healthcare systems and testing capabilities of several U.S. states, pop-up testing sites became a crucial weapon in the fight against the virus. The success of these temporary testing facilities relies on many factors, but, according to New York-based Dynamic Productions, they all share one crucial need: a reliable, consistent internet connection to enable necessary communications including appointment booking, order processing, insurance verification, credit card payments, IP phones, Wi-Fi and patient surveys.
As a wave of event cancellations cascaded across the world in March and April, Dynamic Productions realized its vast expertise and knowledge of temporary technology installations could help pop-up testing sites operate faster, smoother and safer through the use of SnapAV networking and security solutions. After signing agreements with multiple testing site operators, the company began work on May 1, and has since brought its robust mobile solutions to more than 200 temporary testing sites in New York, Rhode Island and Florida.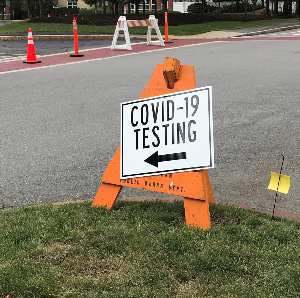 "A testing site operator asked us to assist with logistics, and it snowballed from there," said Brian Rosenblum of Production at Dynamic Productions. "Luckily, our business and employees are experienced at rapidly deploying critical infrastructure for temporary rental projects, and we were able to quickly design and deliver systems that met the testing sites' needs. Whether it's IP phones to communicate reservations and results or stations to collect insurance info and register patients, we are providing everything a site needs to test the most people the fastest they can."
Dynamic Productions combined Pakedge routers, Araknis POE switches, Araknis indoor and outdoor wireless access points, SnapAV Cat6 cable, Luma security cameras with a 2TB NVR, and a five-outlet Wattbox power conditioner with OvrC Home management to provide everything a testing site needs for consistent, reliable and safe operation. The solution is compact and highly mobile, utilizing a portable waterproof rack case from SKB.
The testing sites in New York and Rhode Island operate for anywhere from one day to more than a week, and Dynamic Production has had as many as 20 units out at one time. The complete system is so simple that once it's set up, most sites do not require assistance to operate it for multiple days. Each site typically has a call center, a registration area, processing area and testing area, and connectivity must be assured across the full site for optimal operation.
"The most important aspects of these systems are that they are easy to use, ultra-reliable, and be set up and broken down quickly," Rosenblum added. "We trust SnapAV products to operate consistently without issue in virtually any environment, even when we are pushing them to the limits of what they are built to do. Once we show up on-site, all we have to do is plug into the location's internet service, and the testing site is online. There's no training, no wait time and no troubleshooting."
In addition to the compact connectivity solution, Dynamic Productions is currently building two custom Rapid Deployment Trailers for a medical company that will be used to travel and provide a complete mobile testing apparatus and serve as a media outreach vehicle. Each trailer will feature full network capabilities with Araknis wireless access points, Pakedge routers, Luma IP cameras, media over IP, indoor TVs, two outdoor Sunbrite TVs, and an 8-channel Episode amp with speakers and a connected microphone. TVs and speakers will present important guidance and information at testing sites and media events. And, to ensure safety, Wattbox will power and protect the system.
"Technology is at its most useful when it's solving critical problems," said Kenny Kim, SnapAV vice president of product management, "and the mobile solutions crafted by Dynamic Productions are an incredible use of products well outside their normal scope. We are all relying on countless technologies to keep us informed, healthy and safe, and we're proud that SnapAV products can help make a difference in the fight against the COVID-19 virus."
To date, Dynamic Productions has serviced 150 serology testing sites in New York, 50 serology testing sites in Rhode Island and two drive-thru testing sites in Miami, with the two new Rapid Deployment Trailers expected to be ready for deployment in September. The company deploys its solution to up to 20 COVID-19 testing sites at a time and can assist anywhere it is needed as new hotspots emerge.
"Dynamic Productions provides top quality production services for live and virtual events, festivals, tours and concerts, and more. We pride ourselves on delivering turnkey solutions to our clients that provide a seamless transition from concept to finished product. With our diverse in-house capabilities Dynamic Productions is able to tackle everything from fabrication to logistics and implementation of any project. Our staff continues to adapt to the ever-changing environment as we look for out of the box solutions to remain successful and adapt to the needs of our industry."