*Originally published on CEPro.com
MDU-specialist Stratis / RealPage uses AI-driven cameras to monitor clients' garbage and recycling dumpsters to reduce unnecessary pickups.
The old adage that "one person's trash is another person's treasure" is certainly apropos for MDU specialist integration firm Stratis / RealPage… literally. The company has teamed with AI-camera maker Compology to offer camera surveillance of trash and recycling dumpsters to multifamily property managers for a $2 recurring monthly revenue (RMR) fee. The service enables property managers to reduce unnecessary pickups, detect improper disposal of recyclables, cut potential fines and overcharges from overflowing dumpsters, improve the environment, and increase the satisfaction of tenants, among other things.
"The multifamily market needed a solution in waste management because, quite frankly, nothing existed in the space. The last innovation in waste management targeted at the multifamily community was the introduction of the trash compactor in 1980s," says Mary Nitschke, vice president, sustainability at RealPage (Nasdaq: RP) which acquired Stratis IoT in August, 2020. She notes that multiple factors are increasing the amount of waste that people produce, leading to increased amounts of trash. For example, consumer habits have made it more cost effective to replace instead of repair so people are throwing away things more readily.
A similar problem is occurring with recycling. Online shopping has grown due to the pandemic, which means more cardboard needs to be disposed of. Often, those cardboard boxes are not collapsed before they are thrown in the recycling bin. That leads to what Nitschke calls "artificial fullness" of the dumpster, meaning the empty "air space" inside the cardboard box is making the dumpster appear more full, more quickly.
On average, Nitschke says dumpsters are only 46% full when they are picked up, meaning the property manager is often paying for a pickup that could be skipped. Ideally, she says a dumpster should be 85% full when it is picked up. That fill level percentage is ideal for determining the frequency of the pickup cycle.
Meanwhile, property managers have little to no visibility to what is filling their dumpsters, so they often believe strangers are randomly throwing in waste in their dumpsters, filling them up more quickly and requiring increasing pickups by the sanitation company. Prior to lockdowns caused by the COVID-19 pandemic, Americans generated three times the global average of waste per capita, producing around 1,700 pounds of garbage each year.
"The property managers usually have no idea what is going on," comments Nitschke, noting that some property managers report their disposal costs of have risen 40% in some cases, and even as high as 75% higher in other instances.
RealPage Compology Camera Takes 6 to 8 Images Daily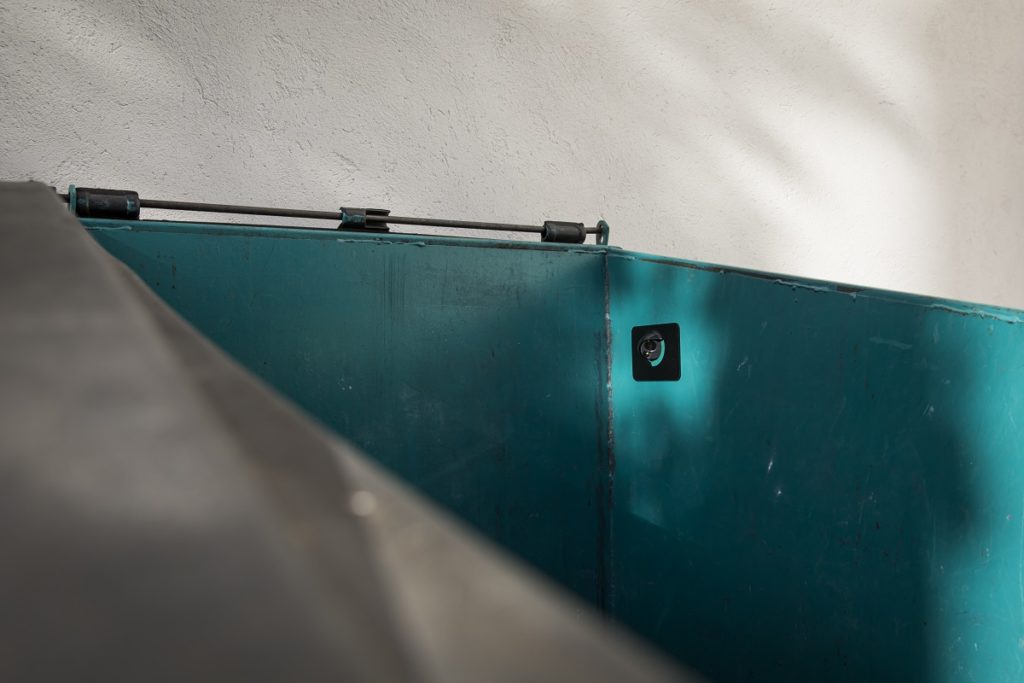 Stratis / RealPage has a deal in place that makes it the exclusive provider of the Compology camera for the MDU space in the U.S. The solution mounts a tiny, rugged camera a little larger than an iPhone in the dumpster. The camera, which takes still images only, is affixed in the top inside corner of the dumpster near the hinge-side of the lid.
"It's a beast," comments Nitschke in reference to its ability to take a beating.
It uses a parabolic lens to snap six to eight still images per day of the contents of the dumpster. The camera has a flash so it can take images in total darkness. It can withstand 50,000 pounds of pressure. It communicates via LTE cellular. The images are stored by RealPage for up to 24 months.
Using AI, those images are scanned for 11 different types of materials, including garbage bags, propane tanks, Styrofoam, bulk materials, wood, metal and more. For example, during the post-holiday time period, it is not uncommon for people to dispose of their strings of lights. Those LED light strands are not designed to be recycled, yet they often get thrown into recycling bins, says Nitschke. "Tanglers," as Nitschke calls them, like those LED lights strings can wreak havoc on a recycling center, says Nitschke.
Using the AI analysis, the system will send alerts to the property manager advising him or her to collapse the cardboard in the recycling bin, or move the light string into the proper trash dumpster.
The trash monitoring system was first introduced to the MDU market last September, and Nitschke says the initial results have already reaped rewards for some property managers. She details one particular instance where the property manager reduced contamination fines by 63%. Another MDU manager cut the trash bill by $1460 in one month. Those savings can come from things like eliminating extra charges for overflowing dumpsters, or determining an additional dumpster wasn't needed on the property.
The system also allows property managers to keep tabs on their waste companies. Nitschke says that on average, 26% of all trash service pickups are missed by the waste management company for various reasons. Among the most common reasons are bad weather, a truck breakdown, or the inability to access the dumpster due to a car parked in the way. Using the RealPage system, the property manager can now determine if the trash service pickup occurred or not.
Since RealPage has an exclusive on the MDU space with the solution, integrators would have to look to deploy the solution for their commercial/resimercial clients. It could also have application for large estate clients and even for eco-conscious clients wanting to maximize their recyclables and minimizing their waste.
Now… if only the system could smell the trash too!