*Originally published on CEPro.com
Smart buildings like the ones Carr Properties are building may be the trend of the future for major U.S. cities, so now's the time for integrators to seize the opportunity.
In what can only be described as a paradigm shift for CE pros, it appears as though integrators are starting to realize that their experience working in both the residential and commercial markets will lead to bigger things in the coming years. With promising integration opportunities like smart buildings beginning to pop up in major cities around the U.S. that combine residential and commercial technology, the timing is right for installers to take note and get involved.
A smart building may sound like a place where Fry would deliver packages in Futurama, but in reality these facilities combine the smart home experience with the security and advanced technology found in commercial AV to create entire buildings that are automated and perfected for the modern tech-savvy consumer.
Integrators may want to take the path Virginia-based integration company Nard's has taken. Instead of seeking out individual installation opportunities from builders and property owners, Nard's linked up with Carr Properties, a commercial real estate investment trust that owns, manages, acquires and develops smart buildings in several U.S cities. By joining forces, both Nard's and Carr Properties have created some seriously astounding office spaces and residences.
Smart Buildings and What Carr Does Differently
While every smart building company has its own spin on the concept, what separates Carr Properties from others seeking to make the most of the market is the company's dedication to working with local integrators to create a range of smart buildings that use technology many customers are already familiar with.
"What's really always kind of been the challenge is how do we bring technology that people are used to using in their homes and are used to using in their day to day lives, outside of work, [and] how do we bring that into a workspace and make it very simple to work and make it very simple to operate," says John Carroll, CTO of Nard's Inc.
"When you go from one Carr property to another you're using the same kinds of technology, the same kinds of buttons, the same kinds of icons, so that everything is a smooth flow throughout their whole portfolio," he adds.
One major benefit from this strategy is that each building can be tailored to the specific needs of the clients in the building, be they multimillion-dollar businesses or wealthy urbanites. Carr can then further tailor the feature list to include as much user-friendly technology as possible, thanks in part to a partnership with the URC automation platform.
While it may sound like a tall task, Carr has done much to make sure things are as easy as possible on the integrators, property managers, and customers involved in the process. Instead of creating unique plans from scratch for every floor of a high-rise that may house a different business, the company developed and uses a template to swap things in as simply as possible.
"We literally develop a cookie-cutter approach for a conference room that is a specific size, a lobby for music … so we almost have it down to a science with regards to the requirements that we need, and then we just adapt the technology that we need for it based on the size [of the room] and if there's any specific requirements," says Iian Zachar, chief technology officer, Carr Properties.
Choosing the Right Platform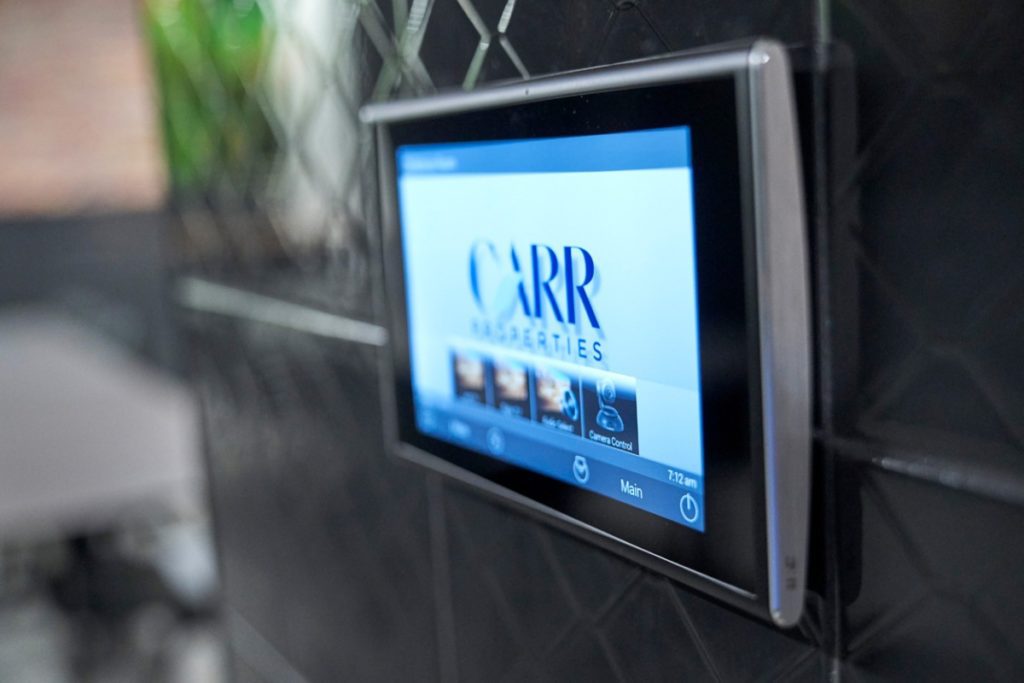 So how do these smart buildings combine all of this technology without endless truck rolls and service calls? In Carr's case, Zachar believes the openness and simplicity of the URC Total Control platform really helps create a unified living and working environment. Carr also tries to make it so each building runs on the same type of system and prefers to plan AV systems from the bottom up, and starting with a URC platform allows them to pick simple and effective system solutions and then get into the specific products that each client needs.
"The beauty of the openness of the URC platform is that we can build on top of it and then adapt scenarios into that room," says Zachar. "I'm not restricted or limited with what I want to do. If I want to use a specific amplifier or a specific module or a specific video conferencing system it's not a problem because eventually we can adapt it and we can make it work."
"URC has been great … they make their user interface so easy to use, and their backend software almost keeps you from overcomplicating [installs]," adds Caroll.
Now that smart buildings have become a hot commodity, smart building companies like Carr and integrators like Nard's are using these types of systems to ensure they don't constantly run into problems. A late 2020 report from Precedence Research found that the smart building market is on pace to hit a market size of $127 billion by 2027.
Smart Buildings Allow for Added Amenities, Enhanced Monitoring
Beyond the ability to build bespoke offices, the smart building approach Carr and integrators like Nard's are developing also works as the perfect proving ground for some relatively novel technologies that are gaining momentum in both residential and commercial spaces.
Recently, Carr and its team of integrators have been keeping track of customer interest in wellness and air quality technology as businesses and residences look to improve their systems due to continued COVID-19 concerns nationwide. While many modern highrises offer air filtration systems on a building-wide scale, the integration teams working with Carr set their sights a little higher.
"I think that there's going to be a lot of standards when it comes to wellness and health [technology] because people are much more educated right now and they're going to require visibility," says Zachar. "Because for us wellness and hospitality is huge. We're talking about air quality, particulate counters, lighting, circadian lighting, acoustics and [asking] how does all that fall into the wellness and the hospitality piece of it, and gathering all that information into our analytics platform."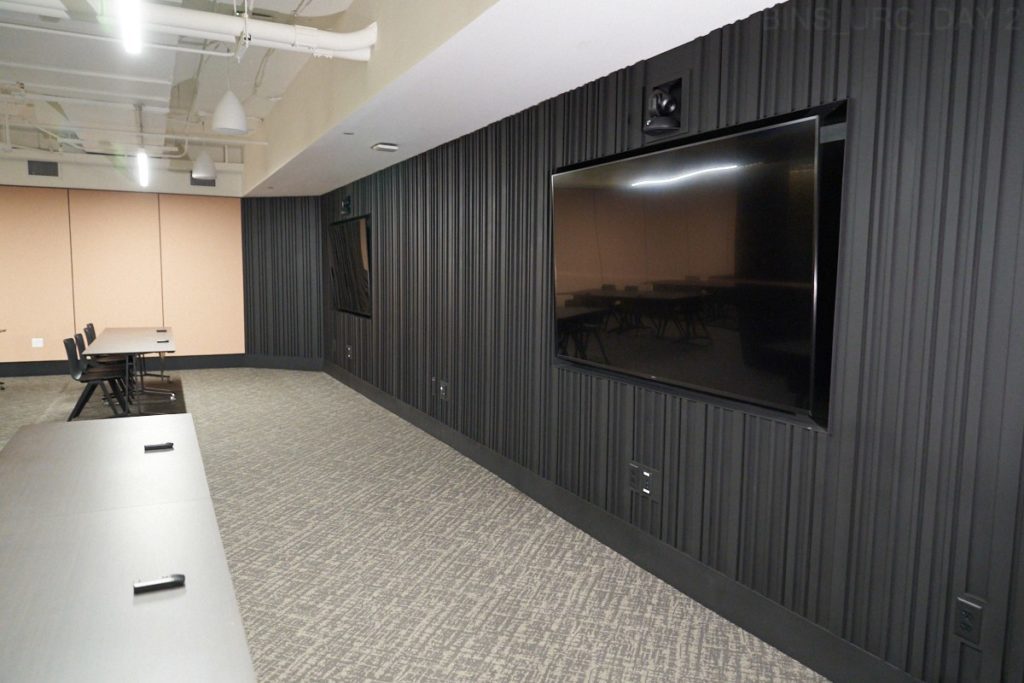 Carr also tries to consistently use new and emerging technology in its buildings, including things like UV Germicidal Irradiance (UVGI) detectors in rooms, circadian lighting, and advanced filtration technology to keep its buildings safe and clean.
The company can do some pretty futuristic stuff with its automation technology too, including projecting a report card of the building's wellness stats (IAQ, number of guests, etc.) in the lobby. Carr can even show residents and workers whether the gym or an office space is available via the Carr Properties app, meaning people don't even have to leave their office or residence to learn whether an area is safe and ready for a visit.
Thanks to its smart buildings' AV and control systems being automated, all of this advanced tech doesn't require a building's property manager to be an automation wizard. After some initial training on the URC Total Control platform the buildings run on, managers are able to help customers with simple issues due to the user-friendly nature of the panels and tech included in both common and private spaces.
Smart buildings aren't all serious business, either. Up and coming, trendy tech companies are looking to differentiate themselves from other tech startups, and these businesses are beginning to seek out entertainment spaces to use as a selling point for prospective employees. A few Carr properties have adapted to furnish these requests, and now businesses in those buildings have access to rooms with DJ decks, podcasting booths, and even karaoke rooms!