CEDIA has released the results of their Integrated Home Market Analysis survey, which depicts a stable home technology industry valued at $20.1 billion.
Respondents of the survey were submitted their responses online from August to October 2021 and asked to report on revenue figures from the last 12 months. The questions were designed to forecast overall integrated home industry size, areas of expenditure, project size and frequency, specified brands, and latest trends.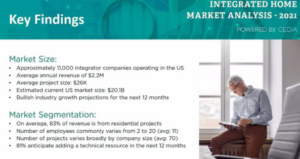 Key findings of the report include:
Based on average annual revenue and project frequency, the integrated home market in the U.S. has an estimated value of $20.1B
Approximately 11,000 integrator companies operate in the U.S. with an average annual revenue of $2.2M and an average project size of $26K
Residential projects constitute 83% of revenue, on average
The average integration company employs 11 people and completes 70 projects per year
Most integration companies anticipate adding a technical staff member in the next 12 months
Categories experiencing the most growth include lighting/shading, lighting control, and networking
Homeowners are shifting toward streaming and "simpler" solutions
The DIY trend continues to add pressure to this market, though not enough to thwart the bullish growth projected for the next 12 months]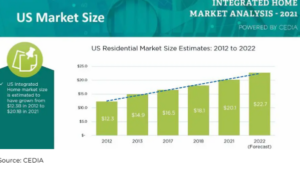 More Projects at a Lower Price Point
The average project size of US integrators has fallen somewhat in the last several years, despite the fact that overall project count has grown somewhat (from 56 average projects in a year in 2014 to 70 in 2021). Much of this phenomenon could be explained by the fact that larger integrators are obviously able to complete more projects in a year than smaller businesses can.
CEDIA panelists commenting on the findings noted that DIY continues to put pressure on integrators, potentially narrowing their field of projects.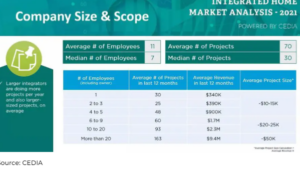 As consumers continue establishing and adjusting to these new norms, CEDIA gathers first-hand insight from integrators to accurately paint a picture of the industry at large.
The 2021 CEDIA Home Market Analysis for the U.S. and U.K. is free to download for CEDIA members in the Research Library. Non-members may purchase a copy of the report for $1,000.
*Originally published on CEPro.com*