AV Installations and Single-Family Residential (New Construction) are top revenue sources for leading integrators projecting 10.7% growth in 2017.
CE Pro Summit 2017 guests represent companies doing almost $800 million in annual revenues and 45,000+ installations in aggregate according to projections derived from confirmed guest applications. CE Pro Summit guests are projecting a 10.7 percent increase in revenues versus last year. The CE Pro Summit is one of three events that comprise the Total Tech Summit, which will host almost 400 of the leaders in custom, commercial and security integration in Orlando, Nov. 1-3.
The largest product revenue category for the CE Pro Summit is A/V Installations at more than $235 million followed by Control System Installations at $141 million, Security Installations at $111 million, Networking/IT Installations at $97 million and Lighting/Electrical Installations at $91 million.
The top five vertical markets are:
Single Family Residential (New Construction) – $350 million

Single Family Residential (Retrofit)

–

$257 million
Commercial Office Space

–

$76 million
Multifamily Residential

–

$26 million

Hospitality (Hotels, Resorts, Restaurants, Bars, Clubs) –

$23 million
"Now in its 10th year, the CE Pro Summit continues to host the biggest and best custom integration companies in North America," said AE Ventures president, John Galante. "We're excited to help the crème de la crème in custom grow and improve their companies through best practice sharing, collaborative brainstorming and scheduled, planned engagements with leading manufacturers, distributors and service providers."
For more detailed statistics on 2017 Summit guests, contact AE Ventures EVP Nancy Franco at 508-618-4225 or nfranco@ae-ventures.com.
REVENUES BY PRODUCT/SERVICE CATEGORY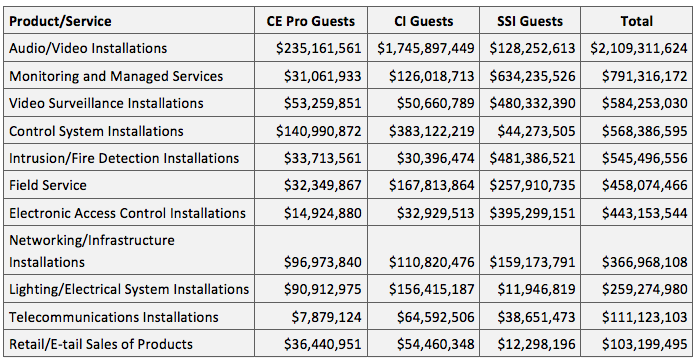 REVENUES BY VERTICAL MARKET