AV Installations and Commercial Office Buildings are top revenue sources for leading integrators, projecting 11% growth in 2017.
Commercial Integrator (CI) Summit 2017 guests represent companies doing more than $3.2 billion in annual revenues and 55,000 installations in aggregate according to projections derived from confirmed guest applications. CI Summit guests are projecting an 11 percent increase in revenues versus last year. The CI Summit is one of three events that comprise the Total Tech Summit, which hosts almost 400 of the leaders in commercial, custom and security integration.
The largest product revenue category for the CI Summit is AV Installations at more than $1.7 billion followed by Control System Installations at $383 million, Lighting Installations at $156 million, Security Installations at $113 million and Networking/IT Installations at $111 million.
The top five vertical markets are:
Commercial Office Space at $1.2 billion
Colleges & Universities at $469 million
Health Care at $358 million
Government at $232 million
Worship at $212 million
"We've got a great group of CI guests confirmed, and we're looking forward to delivering them great content, peer connection and vendor engagement in Orlando this November," said AE Ventures president John Galante. "I'm especially excited to be working with PSA and their USAV subsidiary to be providing CI guests a pre-con workshop on managed services and recurring revenue from commercial AV installations."
For more detailed statistics on 2017 Summit guests, contact AE Ventures EVP Nancy Franco at 508-618-4225 or nfranco@ae-ventures.com.
REVENUES BY PRODUCT/SERVICE CATEGORY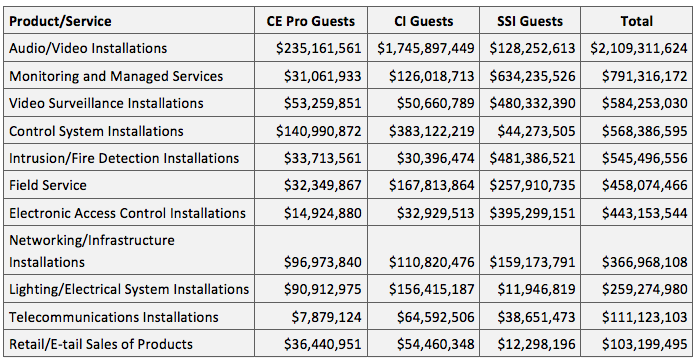 REVENUES BY VERTICAL MARKET