Statistics derived from confirmed guest applications provide a snapshot of guest revenues by product and service category and revenue and installations by vertical market.
Total Tech Summit 2017 guests represent integration companies doing more than $6 billion in annual revenues and 420,000 installations in aggregate according to projections derived from confirmed guest applications.  Commercial Integrator guests represent the largest portion of revenues at $3.2 billion, followed by Security Sales & Integration guests at $2.1 billion and CE Pro at $800 million.
The largest product/service revenue category for the Summit is A/V Installations at more than $2.1 billion followed by Monitoring & Managed Services at almost $800 million and Video Surveillance Installations, Control System Installations and Intrusion & Fire Detection Installations all at better than $500 million annually.
The top five vertical markets are:
Commercial Office Space at $1.7 billion
Single Family Residential (Retrofit) at $670 million
Single Family Residential (New) at $626 million
Colleges & Universities at $589 million
Health Care at $588 million
"More and more of the biggest and best companies in custom, commercial and security integration are recognizing the ways the Total Tech Summit can help them grow and improve their companies," said AE Ventures president John Galante. "They come to learn how to tweak business processes and evolve their product and service mix successfully, and it delivers sponsors a remarkable opportunity to meet on a scheduled basis with the most powerful players in the market."
For more detailed statistics on 2017 Summit guests, contact AE Ventures EVP Nancy Franco at 508-618-4225 or nfranco@ae-ventures.com.
REVENUES BY PRODUCT/SERVICE CATEGORY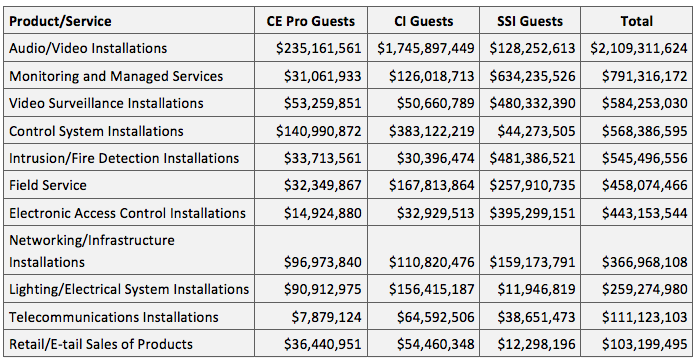 REVENUES BY VERTICAL MARKET