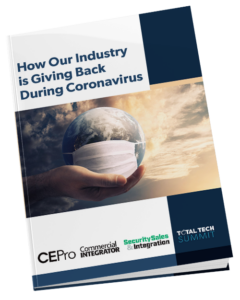 During this seemingly never-ending pandemic, it feels like all we hear is doom and gloom. Negativity surrounds us in the news, from our family and friends, and social media. We rarely hear about the good, but it's out there. Take a look at your integrator peers for one.
You all have been chipping in wherever you can to help other essential workers, feeding families, and so much more. We at Total Tech Summit, CE Pro, Security Sales & Integration, and Commercial Integrator are so proud to be a part of this incredible industry. Thank you for all that you do!
Download this new eBook to see how integrators from across different verticals are helping during the Coronavirus outbreak.