Sponsor Participation Summary
Vendors don't exhibit at AE Ventures events, they engage!
The Sponsor Participation Summary contains the following information about all Summit sponsors:
Exhibit space
Number of Boardroom Presentations
Number of One-on-one Meetings
General Session Sponsorships
Defend your market share with existing and new customers by matching or surmounting your competitors' plays.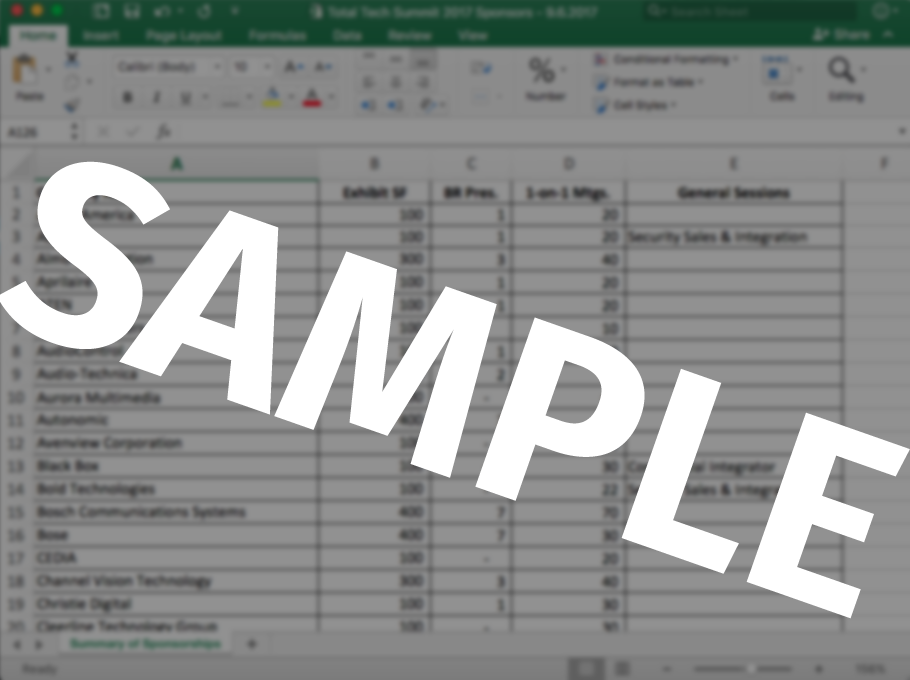 DOWNLOAD SPONSOR PARTICIPATION SUMMARY
Fill out the form below to receive the Total Tech Summit Sponsor Participation Summary
HOW TOTAL TECH SUMMIT BENEFITS SPONSORS
SPONSOR HIGHLIGHTS
Learn more about what it means to be a Sponsor at Total Tech Summit!
"We get to do a lot of networking with our key customers. The one-on-ones and boardrooms reinforce our story to our best customers, emerging customers and folks who have never done business with us. It's a really great opportunity to drive new business."
David Weinstein, Vice President of Sales, Lutron Electronics
"Being in this environment, talking to the leaders of companies—it's a great way of finding out where the gaps are in what we offer today and what we need to offer in the future."
Scott Lowder, Senior Product Manager, Middle Atlantic Products
"It's opportunities like this that allow us to learn more from each other. Everybody is open to learning, and we're realizing that clinging to the old ideas is not what the future is going to be about. This, to me, has been a phenomenal couple of days."
David Meurer, President and CEO, Armed Response Team