Total Tech's offers you ways to break-through and speed sales traction with business leaders of the biggest and best custom, commercial and security integrators in the nation.  Download our sponsor tell-all brochures below to learn more about each and every guest segment we host at the event, and our formula for delivering you scheduled, guaranteed engagements like 35-minute boardroom presentations and 15-minute one-on-one meetings.
---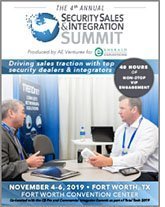 Security Sales
Almost $2 billion in annual aggregate revenue
157,000 aggregate commercial and residential installations
Average annual company revenues of $25.3 million
Progressive, growth-oriented companies segmented by enterprise/mid-market focus and SMB/residential focus so you can deliver focused presentations and engagements
Please complete the form below. Upon clicking submit your download will begin immediately.
Would you like to talk to someone about 2019 Summit Sponsorship Opportunities? Visit our Contact Us page.
Get the CE Pro or Commercial Integrator 2019 Sponsor Booklets