*Originally Seen on SecuritySales.com*
Total Tech Summit brings together hundreds of integrators across the security, custom home installation and AV industries. Here are some tips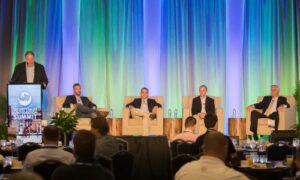 from a few security-based sessions from the latest event.
A couple of months ago, representatives from some of the industry's top dealers and integrators convened at the Fort Worth (Texas) Convention Center to soak up fresh ideas, network and strike partnerships with technology and business vendors.
The fourth Security Sales & Integration Summit brought those 100 pros together as part of the ninth Total Tech Summit (TTS), which included another 300 integrators from SSI sister publications CE Pro's custom home installation and Commercial Integrator's AV audiences.
As in the past, all attendees were able to interact in a vibrant reflection of converging markets. The dozens of pros I spoke to onsite were effusive in their praise for the Summit. I had the pleasure of leading the SSI Summit's technology and operations assemblies, which I believe are too valuable to limit to the confines of a convention center ballroom. That's why I share some of them in SSI's February Business Issue. It's also a good way to inspire more company leaders to pursue this invitation-only event.
In "Security School Is in Session to Help You Graduate to Head of the Education Market Class," panelists rendered these success tips:
Be responsive even to small opportunities. Service makes the difference in who gets chosen given the luxury of making decisions not solely based on price (public bids).
The systems need to be easy to use and intuitive. Video surveillance and access control are the biggest opportunity, with gunshot detection and video analytics gaining traction.
The role of the integrator/dealer is to educate decision makers on the best technology solutions to address security risks; be hands-off in creating policy for handling specific threats/events.
Be well educated in the array of tech-based solutions available. The ability to explain and offer fully integrated solutions is crucial.
Manage expectations of advanced integrated technologies. They should clearly understand it's only one element of an overall security plan.
Due to budgetary constraints, any technology recommendations should be forward-thinking and scalable for growth and expansion.
Once you establish expertise as a business partner, act in gratis (free) as a consultant to constituents. This includes targeted customer employees, architects, engineers and construction managers.
Education customers are research-focused. Stimulate this by offering free pilot programs and involve them in manufacturer beta programs.
Offer typical and outside-of-the-box solutions. Via integration you can satisfy 75% of their requests by leveraging building systems.
Listen to the needs and gather thoughts from several people in the school environment. Often they seek different uses for the security devices.
If you can win over IT, you can win over anyone. Take care of them, they'll take care of you.
Don't oversell gadgets, analytics and AI. Overpromising leads to disappointment.
Here's what came of "Managed Access and Video as a Service: What's Taking So Long?":
Your plan must include how you are going to monitor status of the devices, deal with support, training docs and client requests.
The sales team must be well trained on the value proposition. When given an option of $100 per month as an OPEX for 60 months or $4,000 as a CAPEX cost, many opt for $100/month even though it's $2K more.
Shift your pricing model. If video systems are $500/camera, then with a long-term storage option charge $300-$400 so the CAPEX is less.
Know the costs associated with bringing an offering to market. Understand your breakeven point and have a realistic timetable.
Once you jump into this service offering, clients will direct you into areas you may not have anticipated. Stay ahead of clients' needs and develop depth in your operations team to execute changes.
Dealer/integrator execs and managers serious about success should reach out within the next few months to participate in this year's SSI and Total Tech Summits Nov. 9-11 in Cleveland. For more info, visit totaltechsummit.com.